Busekist named faculty representative to athletics
Faculty Athletics Representative David Busekist received his title after the former representative, Joseph Morris, stepped down from the position.
A long-time member of the Athletic Committee, Busekist has been working with athletes for many years now. President Dr. John Crain appointed him to the position.
According to Crain, the faculty athletic representative serves as a liaison between the Athletics Committee, the Athletic Department and the university president.
"The faculty athletics director focuses on matters related to academic welfare and well-being of student-athletes," said Crain. "Busekist will also check players' attendance and ensure eligibility of student-athletes including conformity with student-athlete eligibility certification roles and procedures. The faculty athletic representative also validates and signs prospect matriculation letters as well as waivers, violations and rules interpretations request."
Crain explained his reasons for selecting Busekist for the position.
"I chose Busekist for multiple reasons," said Crain. "One reason was very familiar with the athletic program, but most importantly, he is very committed to the welfare and well-being of our student-athletes."
Busekist shared his excitement about his new position.
"I love working with the athletes," said Busekist. "I have been for multiple years, and it's a cool job to have."
Busekist is still adjusting to his new position.
"I still tap into Dr. Joseph Morris every once in a while," said Busekist. "You can often see me call or text him once a week for pointers and to help me out. He is a great guy."
Busekist emphasized that the most important part of his newly appointed job role is to handle things properly before it reaches the president's office.
"It's to make sure everything gets handled, how it is properly supposed to, and nothing lands on Dr. Crain's desk that was my job at first," said Busekist. "I don't want to be asked 'What happened here?'"
Busekist shared how his membership with the university swim, tennis and football teams aids in his responsibilities.
"I have an athletic background with me that I carry, and it helps me relate to these college athletes more," said Busekist. "I know what it's like to be a student-athlete. I have played that role before. There are temptations sometimes that players and coaches have to watch out for. I help them find a common ground. It's great."
Busekist's favorite part of his job is getting to meet coaches.
"My favorite part of my job is getting to meet all the coaches and interact with athletes," said Busekist. "Also, I have an excuse for my wife. Now I can come to all the games and say, 'I have to be here. They have to see my face.'"
About the Photographer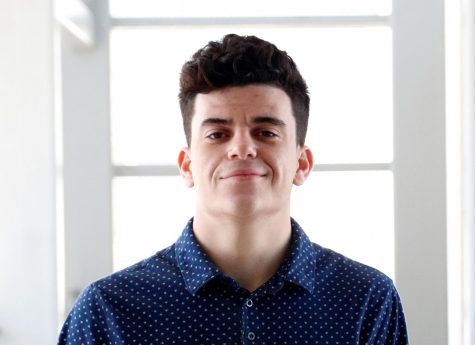 Gerard Borne, Editor-in-Chief
Gerard Borne is a communication major from Norco. Borne began working at The Lion's Roar in the fall of 2018. Borne plans to become a sports agent upon...