Senior Night victory
The Lady Lions soccer team finished "Senior Night" with a 4-0 win over Nicholls State University.
Head Coach Christopher McBride commented on the first half where neither team scored any points.
"The first half was two teams battling it out for the last game of the regular season," said McBride. "You could see the effort levels by both teams. It was a very defensive half."
In the second half, the Lady Lions scored four goals in the last 21 minutes of the match.
"We upped our game a little bit again, and we managed to put the ball in the back of the net," said McBride. "That was the deciding factor of the match. Our mindset, we know what we were facing coming into the game. As we scored our first goal, our confidence started to pick up. We stepped up tonight. We didn't let the emotions of 'Senior Night' get to us."
Christina Cutura, a senior forward, finished her collegiate soccer career with her second hat trick of the season.
"It was a very bittersweet moment," said Cutura. "This has been a great four years. This year, our team is unbelievable. They're the best girls. They're like family. To end with a hat trick is thrilling. I couldn't have done it with any other girls. We all worked together."
Sofia Olsson, a senior defender, discussed her last game in Strawberry Stadium.
"It's a sad day, but I mean, we couldn't have finished it in a better way," said Olsson.
Payton Colson, a senior forward, shared her thoughts on finishing her last home game.
"We went out with a bang," said Colson. "Don't blink. It was happy and exciting, but at the same time, also sad. It's a big part of your life. It was really sweet watching Christina score a hat trick, especially with it being 'Senior Night' and our last home game."
Vanessa Arzaluz, a senior midfielder, discussed her time at the university.
"'Senior Night' was a bittersweet moment," said Arzaluz. "I don't know where the time went. It was defenitley awesome to finish off with a win. I will never forget this. It's such a big chapter in my life. We are gonna try to come back from the Southland Conference tournament with a ring."
The Lady Lions will face Lamar University in Beaumont, Texas on Oct. 31 for the Southland Conference tournament.
About the Contributor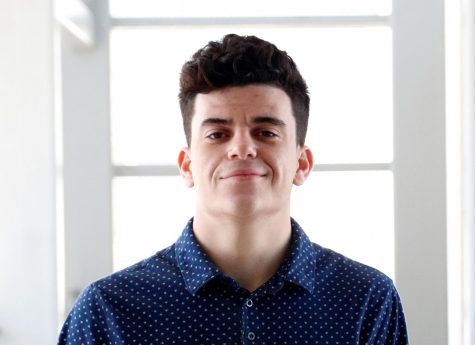 Gerard Borne, Editor-in-Chief
Gerard Borne is a communication major from Norco. Borne began working at The Lion's Roar in the fall of 2018. Borne plans to become a sports agent upon...