Instructors' perspectives on online transition
University students, faculty and staff have had to adapt to daily changes in both their education and lifestyle.
Due to the COVID-19 global pandemic, university courses have transitioned to be 100% online, and campus residents have been advised and encouraged to go home if they are able. Learning routines are changing for students, but teaching routines are also drastically changing for many university instructors.
Christine Mitchell, instructor of English, said that she was more prepared than other teachers may have been because she has been teaching an online technical writing class for at least 10 years in addition to a face-to-face advanced composition class.
While she is no stranger to teaching online courses, Mitchell prefers to be in class to see her students, who, according to Mitchell, would describe her as "energetic."
"I like my students," expressed Mitchell. "I like talking to and discussing with them. I like 'teachable moments' when I mention something that they don't know about, so I quickly shift gears and detour to the new idea momentarily. Online teaching really does not allow for that."
Mitchell commented on how she is less worried about the possibility of students cheating than other instructors may be.
"Let me say, I don't give tests of the traditional type: no multiple choice, no true/false, short answer stuff," said Mitchell. "I give take- home essay tests as a rule, so I am not freaking out that students will cheat on online tests, as I once heard math professors exclaim at a faculty senate meeting."
Chelsea Slack, instructor of communication, has also had experience with online teaching. She shared her perspective on how the transition has affected and will continue to affect her students.
"Some of my students were unhappy with going online just because they always prefer and do better in face-to-face classes," explained Slack. "Face-to-face is obviously a more personal experience, and students get to really know one another and their professors. It also allows students to reach out more easily to their professors and get better one-on-one help. And for some classes, it is just harder to teach them and harder for students to be successful in an online setting."
The university experienced a pause period from March 13-17, where all classes were cancelled so that teachers had time to prepare for the transition to online classes, which will last until the end of the semester.
Slack explained that the pause period was a sufficient amount of time for her since she had prior experience, but that it may not have been enough time for others.
"For people who are not used to teaching online, I am not sure if that is enough time," said Slack. "I have friends all over the U.S. who work in higher ed, and some schools allowed for a longer transition time. But, I do think it is best for students that we missed minimal instruction time with them."
Slack shared how the changes have affected her personally.
"I don't like being at home this much," said Slack. "My husband is deployed so I am home alone, which can get monotonous. My dogs have absolutely loved me being home all the time, though."
Slack encourages her colleagues and students to use the current situation as a learning opportunity.
Mitchell also expressed an encouraging word.
"With luck, God's grace or whatever you believe in, we will not have to give up any family members," said Mitchell. "So two months of school work, teaching and commencement exercises seem like little enough of a sacrifice. Get a hobby, talk to your family, stay home."
About the Contributor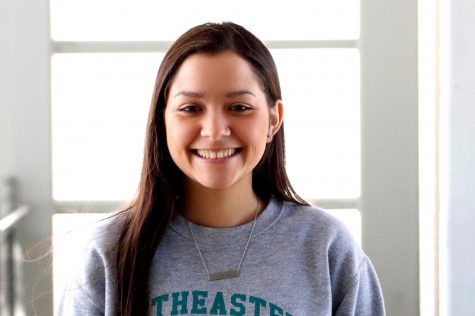 Brynn Lundy, Staff Reporter
Brynn Lundy began working for The Lion's Roar in the Fall of 2019. She is from Lutcher, LA and she is passionate about reading and writing.