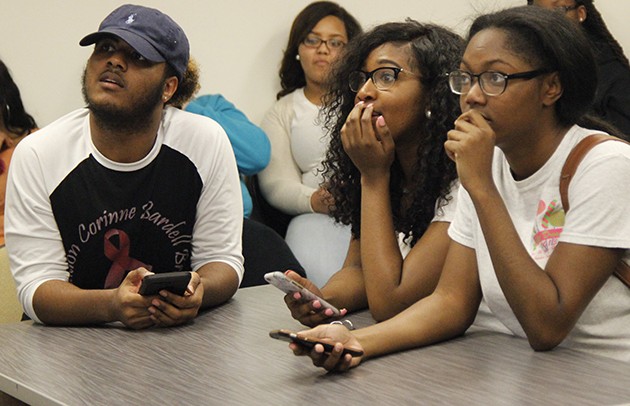 The Omicron Nu Chapter of the Phi Beta Sigma Fraternity, Inc. reached out to students by hosting a Kahoot Black History Month Quiz Bowl.
The Kahoot Quiz Bowl took place on Monday, Feb. 7 at 5:30 p.m. in the Student Union Room 2216.
"The goal of this event is to spread knowledge and give people something to do throughout the day," said President of The Omicron Nu Chapter of The Phi Beta Sigma Fraternity Datron Matthews, a junior engineering technology major. "I hope they saw how they can come out and interact with each other and participate having a good time learning about their history."
Kahoot is a website that lets you create questions and conduct all of them into a survey which allows people to answer them by using any technology device.
"This is our first time actually using Kahoot," said Matthews. "It's a pretty easy made set up. You could just have people bring their phones, log in and take a survey."
Matthews goes on to state the overall goal of hosting this event.
"The goal of this event is to spread knowledge," said Matthews. "Giving people something to do throughout the day since they say nothing really happens on campus."
There were 29 students competing for the prizes. There were three gift cards given out and one grand prize basket. Rashawna Palmer, a junior education major, won the grand prize basket.
"I definitely would attend this event again," said Palmer. "I've learned a lot of black history facts that I didn't know, especially things like the dates and the first black HBCU."
Although she did not know the answers, Palmer gave insight on her strategy to winning.
"My strategies to winning was process of elimination," said Palmer.
After the quiz bowl, soul food was served including fried chicken, potato salad, jambalaya, baked macaroni and cheese, red beans, king cake and a drink of iced tea to top it off.
Matthews talks about why soul food was an important aspect to this event.
"Everybody has to have a little soul food," said Matthews. "I mean, you can't have Black History Month without soul food."
Matthew later describes what Black History Month means to him and how he uses the month for not only self-reflection but as a reflection of the African American culture.
"To me, Black History Month is a chance to reflect on everything we have done in society," said Matthews. "How far we've come, and how we are constantly progressing. It's just everything that makes me proud to be an African American."