University to choose its 57th Miss Southeastern
The university has been conducting Miss Southeastern since 1962 and will be choosing its 57th representative on Dec. 1, 2017. Campus Activities Board, with the mission to provide a wide range of educational and entertaining programs, has organized the event annually. CAB has sponsored the pageant since the 1970s.
Mary Frances Nesom Derrick was the first Miss Southeastern in 1962. The current Miss Southeastern Kristyn Gary will complete her reign after a new contestant gains the title.
Gary shared her experience of competing for the pageant.
"I had not competed for any such pageant before, so it was a whole new experience for me," said Gary. "It was a great experience, and I learned a lot."
Miss Southeastern makes appearances at various events organized by the CAB throughout the year such as "Gumbo Ya Ya," homecoming festivities. She also competes in the Miss Louisiana competition.
Miss Southeastern 2006 Blair Abene as well as Miss Southeastern 2010 Lacey Sanchez went on to receive the title of Miss Louisiana in 2008 and 2014 respectively.
Gary was voted "Miss Congeniality" by the other contestants and also participated in the Miss Louisiana competition.
Former Miss Southeastern 2016 and senior nursing major Alexis LaPlante-Menard shared how she became a part of the competition.
LaPlante-Menard said, "When I heard of the scholarship opportunities that were involved, because even as a runner up, you get a semester tuition. That, for me, it is a huge deal. I thought it was a great opportunity to try."
LaPlante-Menard competed with seven other girls for the title and thinks more girls should take part in the program.
"We are a big school, and there is so much talent here," said LaPlante-Menard. "There are so many great scholarship opportunities. So what's keeping the people from doing this pageant?"
Veda Abene, who was connected with the title for the past 10 years as former MC and judge, shared what she thought about the pageant.
"I think the Miss Southeastern Pageant and the Miss America Organization not only gives these women the opportunity to earn scholarship money, but also to gain self-esteem and to showcase their talent," said Abene. "The talent competition is what is unique about the Miss America Organization. Other competitions do not have the talent portion of competition."
Abene acknowledged that the title also brings huge responsibility.
"As I said, representing your university is a huge honor, and it can be a huge impact to the campus environment as well as the community," said Abene. "They also get to compete at Miss Louisiana and possibly go on to compete on the Miss America stage. Whoever is chosen as Miss Southeastern is a wonderful ambassador for the university."
LaPlante-Menard shared how she thought the pageant helped her grow in self-understanding.
"It's one of those experiences I will never forget and I am very grateful for because what the pageant does is that they ask you to go in front of a panel of judges, and they ask you questions like 'Who are you?' and so you really have to think about that question," said LaPlante-Menard. "So, the pageant kind of forces you to face yourself in the mirror and see who you are and think about it."
Abene suggested this year's contestants to be genuine.
"I would suggest to current competitors to just be themselves," said Abene. "Judges can tell if a contestant is not genuine. Another suggestion is when choosing their evening gown to always choose one that compliments the girl and not overpower her. You want the judges to see your beautiful face before they ever see the gown."
About the Writer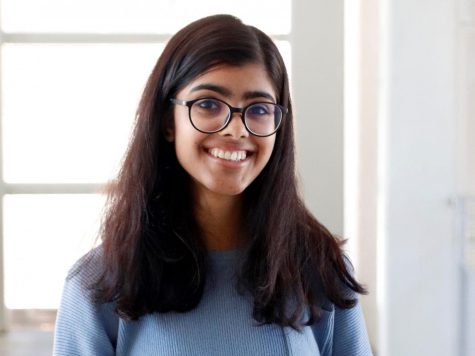 Prakriti Adhikari, Assistant Editor
Prakriti Adhikari is an accounting major and an international student from Kathmandu, Nepal. Adhikari has been working with The Lion's Roar since Fall...