Club to promote talent and leadership
A new performance arts club, the Lion PAC, has been formed in the university with the objective of showcasing student talent and improving them to a professional level.
The club started in September 2017, a year after the cofounders and directors of the club, Demond Taylor and Dustin Fuller, came up with the idea to form the organization.
The club hopes to bring students with different talents together and promote them through each other's support.
Senior marketing major Fuller explained that their goal is to promote performance arts and to create leaders within the campus.
"Basically, the vision is to create a network of students," said Fuller. "We want to develop talent in a professional manner and teach people how to be independent leaders. We promote art and culture."
There are currently 12 members in the club interested in streams of performance arts like acting, photography, composing music and singing. The club is still growing and looks forward to having more members in the days to come.
"We had problem reaching every single person," said Taylor. "Our club has mostly black students, but we like to have students of every race. We don't want to have a line. We want everybody to be a part of this club. We want to promote diversity."
The club expects to help students improve their talent by forming a network of students and encouraging them to help each other by creating a helpful environment.
Fuller and Taylor explained how they think it is hard to succeed professionally in any area, and that talent must be groomed to build up a professional career.
"In the real industry, you have to have that will power and the heart to go through and keep persisting no matter what," said Taylor. "We create that energy and that motivation and inspiration through this club because everyone is coming together. We want to show people that they can do it."
The team has goals to function in a more efficient manner.
"In the future, we want to have people who help other members," said Taylor. "In our organization, we have something called 'specialist,' and our specialists are people that excel in a particular field, and what they do is they help other members. This is future plan for our organization to have more specialists and promote talent."
The team is looking for more people who are enthusiastic about performing arts and want to develop leadership quality. The founders are confident that members will learn a lot from coordination of the team.
"One thing about this club is that when you enter this club, you are not going to leave the same," said Fuller.
In the future, the club wants to incorporate all the talent together and put up an event.
"Now we are just building the group, but in the future, we want to put events," said Fuller. "For now, our goal is to put one successful event."
Taylor explained why he thinks students should join the club.
"They should want to join this club because they are really going to grow from this organization," said Taylor. "We are giving them a connection in the campus. We are giving them an opportunity to grow. So they will definitely grow."
Freshman computer science major Jalon Chatman is interested in composing music and explained why he became a member of the team. He believes his talent can be showcased through the club.
"I want to express myself through music and want people to hear me," said Chatman.
Freshman education major Skyi Price discussed why she was fascinated by the club.
"I wanted a chance to explore my talent and to work with people who can help me better myself," said Price.
Price is interested in acting and wants to improve her acting skills through the club.
For more information on the club, they can be reached through [email protected]
About the Writer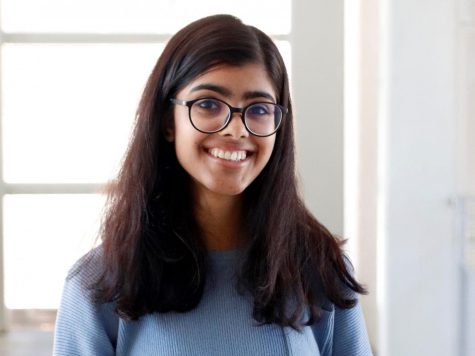 Prakriti Adhikari, Editor-in-Chief
Prakriti Adhikari is an accounting major and an international student from Kathmandu, Nepal. Adhikari has been working with The Lion's Roar since Fall...