Celebrating the role of women throughout history
March is celebrated as Women's History Month marking the contributions of women in the making of history.
The university has been observing Women's History Month since 2001 by organizing lecture series to appreciate women who played significant roles in history. This year the department of history and political science is hosting Women's History Month with a free lecture series. "Louisiana and World War II: A Yearlong Lecture Series 2017-18" resumed this spring semester, addressing Black History Month in February, Women's History Month in March and Holocaust Remembrance Day in April.
The speakers for the lectures that are to be held on March 20 at 11 a.m. and March 28 at 1 p.m. in the Student Union Theatre, are Professor of Political Science Margaret Gonzalez-Perez, Associate Professor of Family and Consumer Sciences Debbie Johnson and Visiting Assistant Professor of History and Political Science Samantha Cavell.
According to Department Head of History and Political Science William Robison, the speakers will either talk about women or are female scholars themselves. He thinks it is important to celebrate Women's History Month as there is still inequality between men and women.
"It's still a neglected subject," said Robison. "It's not as neglected as it used to be because there's been a growth in two things. There has been a growth in the number of women in historical professions in the last 25 to 30 years, and there's also been much greater attention to women's role in history, but it's still treated as almost a separate thing. Having Women's History Month treats it as a separate thing."
Robison talked about Gonzalez-Perez who will be discussing General Francisco Franco's Spain and neutrality during World War II.
"We got one of our faculty, Dr. Margaret Gonzalez-Perez, who is going to talk about Spain during the world war," said Robison. "It's not really about women. It's not really about Louisiana, but it is featuring a prominent female scholar in this department. In fact, she has done more Women's History Month lectures than anybody at Southeastern since we started the series in 2001."
Robison believes that the situation of women in society is improving, but a lot of effort still needs to be made to achieve an ideal situation.
"I don't think we are anywhere close to an ideal situation, but there are a lot more women in the history profession than there used to be," said Robison. "There are lots of women in our undergraduate and graduate program, and that's true pretty much nation wide. If you watch documentaries, you will see much more female involvement in that."
Robison encouraged students and faculty to attend lectures as they will help attendees understand history with a balanced perspective.
"Until recently, it has been a neglected subject, and if you go back and read books from the last 30 years maybe, you are still going to get sort of a male-dominated perspective of things, and the lectures are not going to give you that," said Robison. "They are going to give you a much more balanced perspective."
About the Writer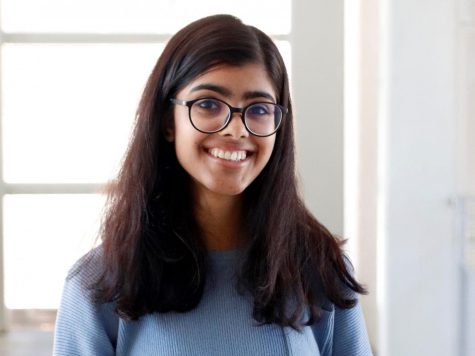 Prakriti Adhikari, Assistant Editor
Prakriti Adhikari is an accounting major and an international student from Kathmandu, Nepal. Adhikari has been working with The Lion's Roar since Fall...