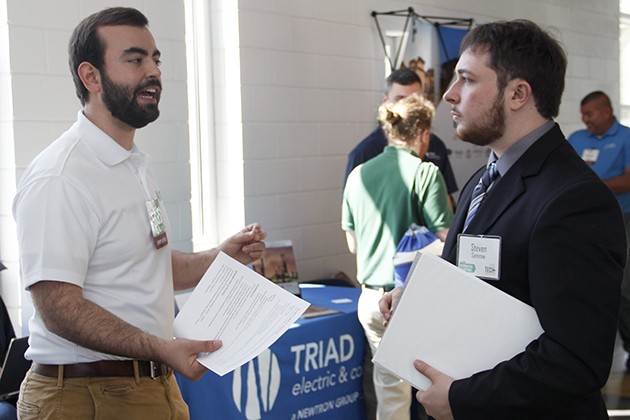 Students interested in internship positions interacted with different companies during the career fair put on by the Office of Career Services and the department of computer science and industrial technology.
"Tech-Connect" was held on March 21 on the first and second floor lobby of the Computer Science and Technology Building. The first half of the program from 9 a.m. -12:30 p.m. was the career fair while the second part was the optional interview, which happened from 1:30 – 5:00 p.m.
A total of 37 companies including Entergy, Envoc, North Oaks Health System, Robert Half Technology and Trade Construction Company participated to inform students about the positions available and look for potential employees.
Professor of Occupational Safety, Health and Environment Chris Kuiper believes that the university is giving "real world ready type experiences" to students besides "giving the technical underpinnings." He thinks that the fair benefitted both students and employers.
"This is an opportunity for them to be immediately valuable to prospective employers and an opportunity for employers to get a quick review of the kinds of students that they are looking for work now, looking for internships, for a full-time job," said Kuiper.
Senior Networking Engineer Jimmy Gill represented Integrated Solutions, which is looking for entry-level networking and server infrastructure. Gill thinks the students were motivated and was impressed with the students who turned up in their stall.
"I think it's great," said Gill. "A lot of talent coming from Southeastern. I am really amazed by some of these students, and I think it's a good way for us to be exposed to work force and us to see some of the new talent that is coming up. "
2010 alumnus and mobile developer for Envoc Kyle Joiner believes the university has a great computer science department. He believes the fair helps initiate the hiring process and benefits both employers and potential employees.
"We start with a stack of resumes," said Joiner. "We often ask people to come by, stop at our office and see if they enjoy the type of work that we do, and that conversation starts at 'Tech-Connect.'"
Other than the new building where the fair was held, Joiner feels the event was different as more students participated in the fair compared to previous years.
Junior information technology major Weston Arnold was one of many students who visited company stalls during the first half of the program. Arnold who participated in the fair previous year as well feels it is a good opportunity for the students.
"Career fair is the best place where you can meet potential employers," said Arnold. "It's the best place to network and see what companies have to offer."
Arnold thinks having the fair in the new building made it the best so far.
"This spring, it probably has to be the best so far because the new building makes it really easy for employers to spread out and have open space while talking to multiple students," said Arnold.
Kuiper is confident that university students are ready to face the professional field.
"They've already had their hands on the equipment," said Kuiper. "They've already had their experience building procedure, not as much as they eventually will get obviously, but to start with, I think they are really ready for prospective employers to hire."