New Monarchs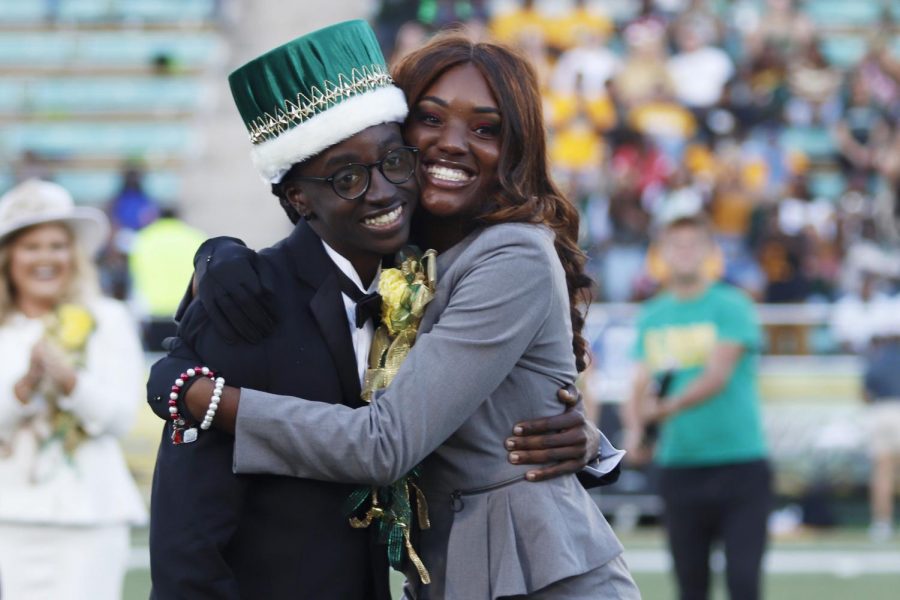 The coronation of the 2018 Homecoming king and queen at Saturday's game recognized Cedric L. Dent Jr. and Da'Jon Beard respectively.
"Being Homecoming queen means a lot to me because I know that having the opportunity to represent my school, this community, my peers and my sorority will be such a great honor," said Beard, a junior early childhood education major.
Voting occurred the week of Sept. 10, and the Homecoming and Beau Courts were announced on Sept. 25.
"All I can do is thank God, my family and my Lion family," said Dent, a senior social work major. "I could have not done it without them."
The crown for Homecoming queen was passed between friends this year.
"My soror, Mattie Hawkins, who is a past member of the Nu Delta Chapter of Delta Sigma Theta Sorority, Inc., was the 2017-2018 Homecoming Queen," said Beard. "She was able to pass the crown down to me. It was a heartwarming experience because something like this doesn't happen often."
Beard is co-coordinator of Project P.U.L.L. and a member of Black Student Union, E.L.I.T.E. Women, Gamma Beta Phi and the Nu Delta Chapter of Delta Sigma Theta Sorority, Inc. Off campus, she is a member of the Hammond Boys and Girls Club and Ladies in the Making, which is a mentoring program.
"I am very grateful for being crowned the 2018-2019 Homecoming queen," said Beard. "I will always hold Southeastern close to my heart."
Dent is also involved on campus as a member of the Kappa Nu chapter of Alpha Phi Alpha Fraternity, Inc., Order of Omega and the Beacon Light of Hammond media team, coordinator of Project P.U.L.L and Student Government Association chief of staff.
"I look forward to creating a platform where I can inspire, mentor, and give back as much as I can to Southeastern and also my community," said Dent.
Both Beard and Dent mentioned the thrill of working with their fellow court members.
"My Homecoming experience was great," said Beard. "I was on court with an amazing group of people. I would like to congratulate them because we all did an amazing job during the week of Homecoming. They made this experience one to remember. I wouldn't have enjoyed it without them. I really had a blast being a part of the 2018-2019 Southeastern Homecoming Court."
Dent explained that he decided to run for Homecoming king to help step out of his comfort zone. Beard had a similar experience after being chosen as a court member.
"It was an unbelievable feeling because all of the time and effort put into all that I do on and off campus as well as campaign week really paid off," said Beard. "Being able to interact with the student body was great because I'm a shy person, so this took me out of my comfort zone, and I feel like it helped me expand my horizons."
Beard described her crowning moment as one filled with emotion.
"A swarm of emotions came over me when I heard my name being called," said Beard. "It was truly the best feeling ever. I still can't believe that I've been crowned Homecoming queen. It feels like a dream. It really was a feeling like no other."
Dent views this honor as an opportunity to grow and learn.
"One step closer to figuring out who I am as a person and fulfilling my purpose in life," said Dent. "I am certain that this journey will teach me, and I will be able to teach others."
Beard hopes to make an impact as the 2018 Homecoming queen.
"As Homecoming queen, I look forward to being a positive representation of the Southeastern community," said Beard. "I plan to make everlasting relationships and continue leading by example."
Dent explained the overall experience as "amazing."
"I would not take it for granted," said Dent. "To be surrounded by so many outgoing and enthusiastic people, definitely kept my glass full."