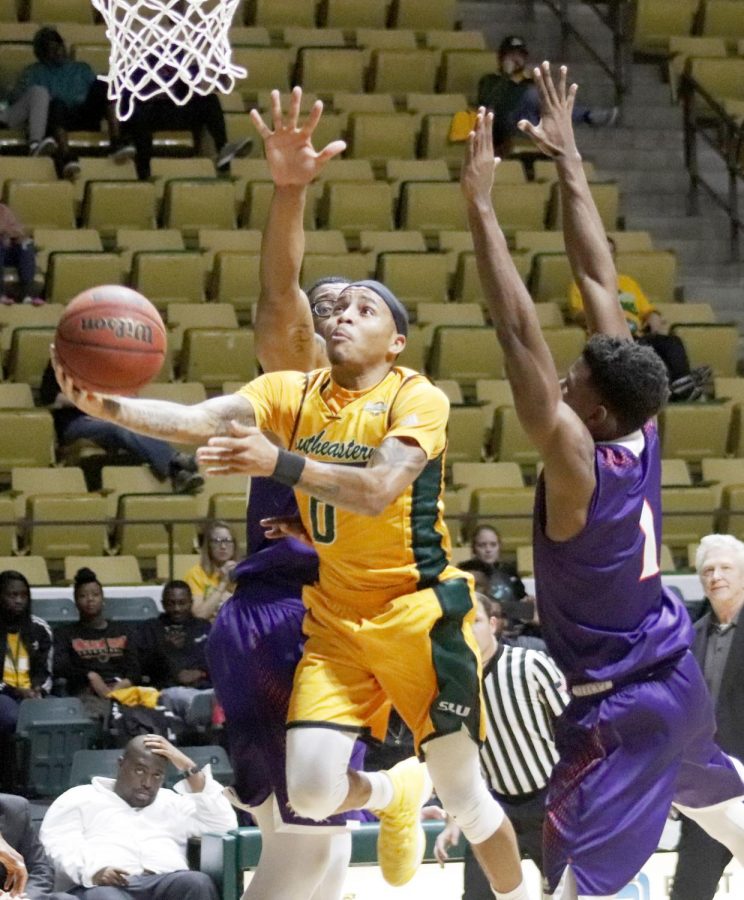 File Photo
Starting his last season for the men's basketball team, senior guard Marlain Veal reflected on his time at the university. 
"I have learned a lot since playing here at Southeastern," said Veal. "I learned that patience is key when it comes to basketball and sometimes taking it 50 miles per hour is better than taking it a 100 miles per hour. I learned that the simpler your game is, the better it is."
Veal, a Gretna native, collected many accolades while in high school such as The Times-Picayune Large Schools Player of the year, The New Orleans Advocate All-Metro team, District 8-5A MVP and MVP in the Louisiana High School Coaches Association All-Star game.
During his freshman year at the university, Veal started 23 of 33 games and averaged 21.7 minutes per game. He reached a peak of 19 points against McNeese State University in an 82-80 victory for the university in his freshman season  as well as scoring 18 points and earning nine assists against Southland Conference rival Northwestern State University.
Veal feels that he has grown a lot since he joined the university's team.
"I came in as a 'know it all freshman,' and I quickly learned that I didn't really know anything," shared Veal. "I have also learned how to become a coach on the court and learned how to communicate to other players during the game. Managing the game is a key component too."
In his sophomore year, Veal played all 32 games and started in 31 of them. Veal broke the record books for the university as he climbed to ninth in assists with 242 and tied for fourth on the university all time season list with 58 steals. Veal led the team in points per game with 14.5 and made the top 10 in the Southland Conference. He also reached a career high in points in his sophomore campaign, dropping 28 points against Nicholls State University in an 87-70 victory.
During his junior year, Veal was named to the All-Southland First Team and helped the university secure the number one seed in the Southland Conference tournament.
"My favorite memory so far is cutting down that net when we beat Nicholls last season to secure the number one seed in the Southland tournament," shared Veal. "It meant a lot to me and my teammates because it showed us how all of our hard work paid off. We hope to do that again this season."
Veal shared the challenges he faces as a student-athlete.
"The biggest challenge is having three classes between 8 a.m. and 1 p.m. and figuring out when to eat," said Veal. "We also have film at 2:30, so managing class time and lunch is hard. Finding extra time to workout and to do extra training is hard too."
Veal aspires to win the Southland Conference tournament and to make it to the National Collegiate Athletic Association tournament this season. Veal will graduate in May with a degree in communication.