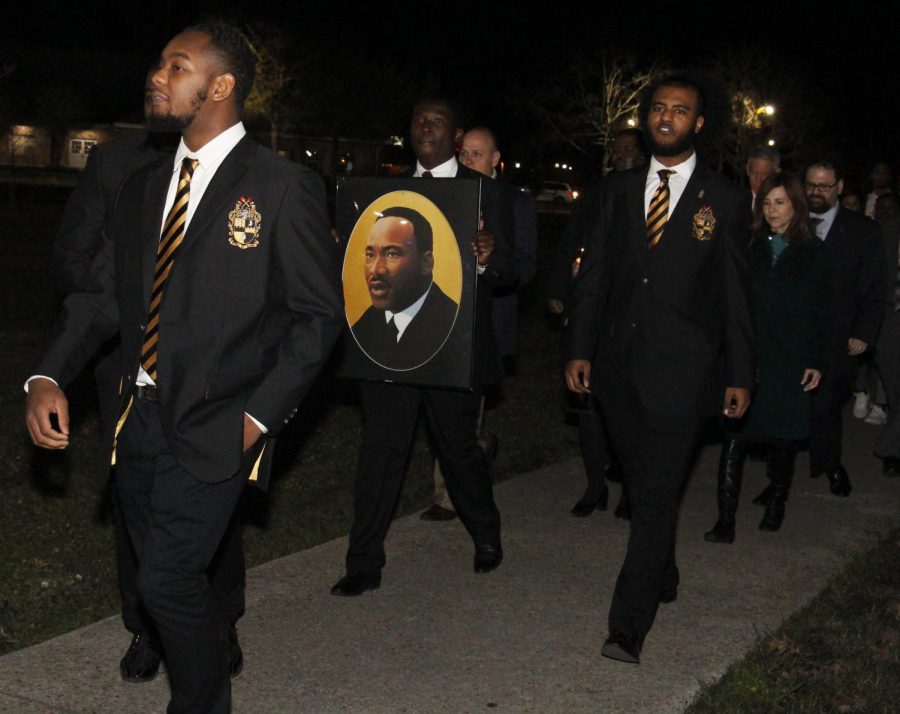 Jacob Summerville/The Lion's Roar
"United we stand, divided we fall."
These words echoed among the Pennington Student Activity Center, the pedestrian underpass and the University Center as the memorial program for Dr. Martin Luther King Jr. took off. Hosted by Alpha Phi Alpha Fraternity Inc., the march started at 6 p.m. followed by a gathering in the University Center.
Keenan Austin, a member of Alpha Phi Alpha, shared that the magnitude of King's message is worth celebrating each year.
"For us to keep doing that every year in and year out, it's very important to us and close to our hearts," said Austin.
Hendrick Foster, chapter president of Alpha Phi Alpha, explained what changes were made this year to enhance the celebration.
"This time, we went with the gospel choir, and I think that it just uplifted the spirit of the event," shared Foster. "It kind of gave a family-oriented, a home-type feeling. I think it went well. We also lit the candles on the way over here. It kind of just set the mood."
At the gathering in the University Center, Alejandro "Al" Perkins, chairman of the University of Louisiana System Board of Supervisors, served as the speaker of the event, discussing the legacy of King.
Austin shared what he discovered from Perkins' speech.
Austin explained, "What Dr. King wanted was just appreciating how God's word can really apply to us, and what Dr. King tried to strive to teach us, and just on a regular basis, how we can better ourselves as human beings to each other."
Austin discussed that continuing King's message involves daily practice.
Austin said, "It's not trying to think, 'Oh, what can I do that would impress him?' It's just taking what he gave us and told us and applying it to our everyday life."