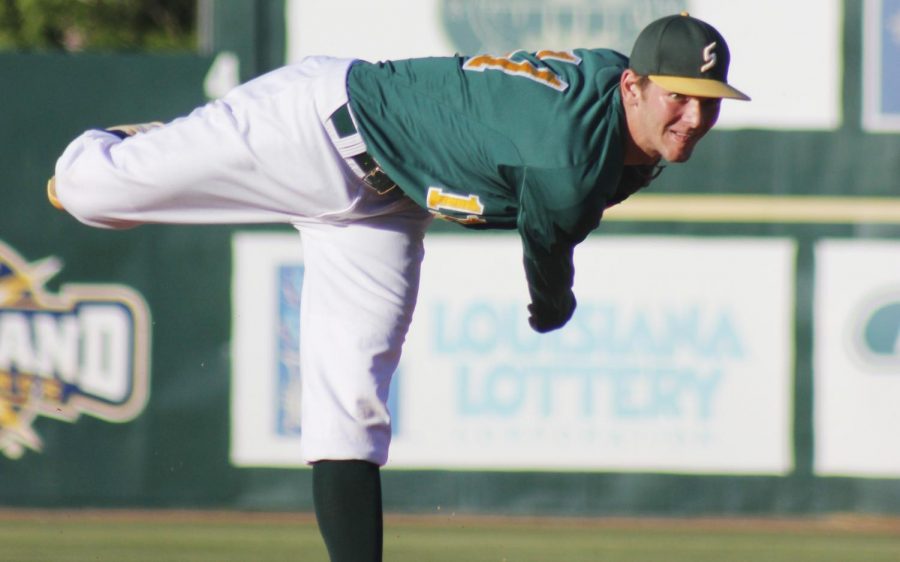 File Photo/The Lion's Roar
A draft to the major league has impacted a university alumnus and has influenced the baseball team.
Kyle Robert Keller, 2015 alumnus, was recently called up from the New Orleans Baby Cakes minor league association to be a relief pitcher for the Miami Marlins major league baseball.
The 6-foot-4, right-handed relief pitcher, spent four years playing minor league baseball after being selected in the 18th round of the 2015 MLB Amateur Entry Draft.
Jay Artigues, director of athletics, talked about Keller's recent successes.
"I was not surprised at all when Kyle got called up to Miami's 40 man roster," explained Artigues. "You knew right away that Kyle was very projectable as a pitcher. You could see the potential he had right away. He was tall and lean with excellent arm action. His only problem was his repetition in delivery during high school. All he needed was a little more time on the mound to develop."
Artigues believes Keller will make the best of the opportunities.
"His biggest strength is velocity, and hopefully that will translate over to the MLB," stated Artigues. "He has a big opportunity to do great things this season with the Marlins in rebuild mode. Hopefully, he will make a huge splash this year."
Keller had a rocky start to his minor league career. In an article titled "Miami Marlins Putting Faith in Right-Handed Reliever Kyle Keller," Kevin Kraczkowski addressed this tough first professional season.
"He managed a terrible 1.72 WHIP, but showed flashes of something better, with 34 K's in only 26 innings," said Kraczkowski.
Matt Riser, head coach of baseball, remembered Keller during his days as a university athlete.
"He had an extremely competitive nature when we first met," stated Riser. "His freshman year, no one expected him to be a real challenger during our obstacle course challenge, but he turned our best time. It wasn't due to his physical strength or athletic abilities, but his competitive nature."
Riser discussed the potential he saw in Keller early on.
"He had huge potential when he first showed up on Southeastern's campus," shared Riser. "We watched him touching 90 out of high school and knew if he could ever throw enough strikes that he would be really good one day."
According to Riser, Keller's achievements have a huge impact on current university baseball players.
"We use him as an example all the time in our recruiting conversations," said Riser. "He came in as an academic walk-on and left a scholarship draft pick. Now for Kyle to have the opportunity to be on the 40-man roster and possibly the big leagues leaves a true possibility for all of our current and future players."
Riser talked about what he thinks Keller will do this upcoming season.
"I think he will be a one-inning setup pitcher or a closer," explained Riser. "I'm super proud of what Kyle has accomplished. He's done it all the right way and deserves every bit of success he has. He's never looked for excuses and always stayed the same good person no matter how much success. I hope my kids handle themselves the same way when they grow up one day. Kyle is a perfect role model."