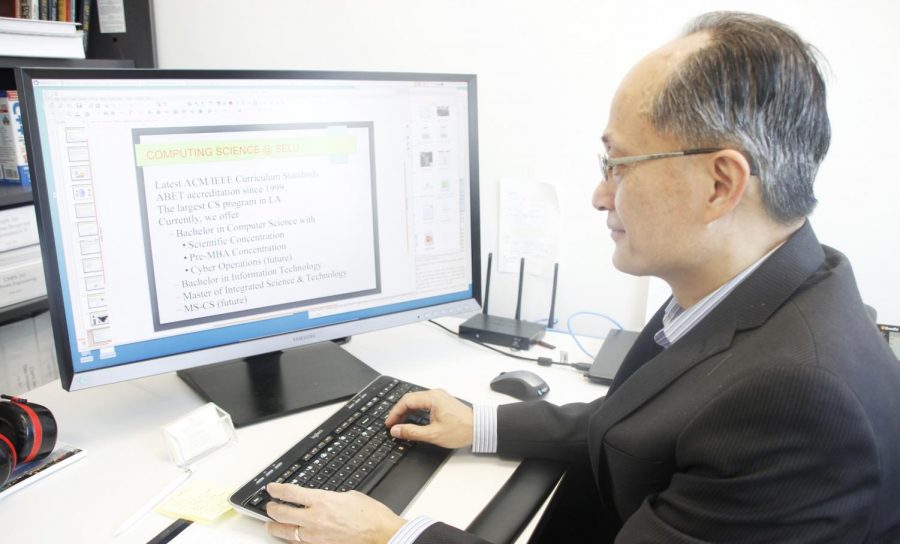 Johnathan Zeringue/The Lion's Roar
The Department of Computer Science provides its students with the tools to be successful in a fast-growing market.
Dr. Quoc-Nam Tran, head of the Department of Computer Science, discussed a renovation that the department recently went through.
"Our department just split as before we were both the Department of Computer Science and Industrial Engineering," said Tran. "The decision was approved by the Louisiana Board of Regents as it was mostly made by the demands of the students. We have about 500 majors and minors students. So, we wanted to have a separate department for the benefits of students."
According to Tran, the department offers the biggest undergraduate program in the entire state of Louisiana.
"We have much more students majoring in computer science and information technology than any other university in the state," stated Tran. "Also, we graduate more students as well. For example, about 67 computer science students graduate every year in comparison with about 50 students for LSU and 35 students for UNO."
The department provides variability to meet its students' interests.
"We have a bachelor's of science in computer science and in information technology," commented Tran. "Specifically, for the computer science degree, we have two tracks. We have a scientific and a pre-MBA concentration."
Within the department, students can explore deeper into the world of computer science outside the classroom through organizations such as the Association of Computing Machinery.
Dr. Bonnie Achee, an instructor of computer science, is proud to be the faculty advisor for the award-nominated organization ACM-Women.
"ACM-W supports, celebrates and advocates internationally for the full engagement of women in all aspects of the computing field, providing a wide range of programs and services to ACM members and working in the larger community to advance the contributions of technical women," expressed Achee. "For their vision and hard work, ACM-W has also been nominated for the 2019 DSA Student Organization Award of Excellence."
The department is constantly expanding due to the rising importance of the field of computer science.
"The job market for computer science is growing at two times the national average," stated Tran. "Usually, a student has a job right after they graduate and can make in the range of 55 to 75 thousand dollars a year."
Achee mentioned a unique program that the Department of Computer Science will implement beginning in 2019.
"The Lion's Code coding camp for secondary students introduces students to computer science through an easy-to-learn program," shared Achee. "This will allow them to create their own stories and games in 3D computer animation. Students will be introduced to the visual programming language, Alice, and use it to code 3D animations. The camp will run from July 15-26 at a cost of $50 per student."
The main objective of the department is to prepare students for the real world.
"We put the students' benefits on top of everything," said Tran. "We try to reach out to the employers in the area so we can offer real world projects for our students in order to give our students a chance to become familiar with their future professional jobs."