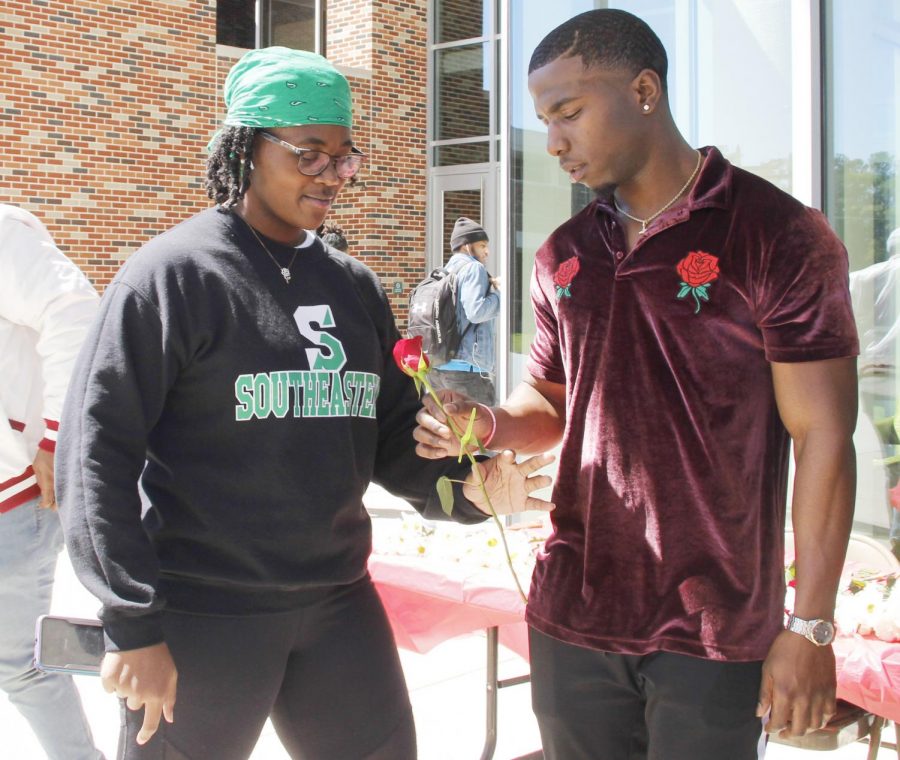 Johnathan Zeringue/The Lion's Roar
For Women's History Month, Kappa Alpha Psi Fraternity, Inc. held "Karnation Wednesday" to honor women on campus.
The fraternity set up outside the War Memorial Student Union on March 27 from 11 a.m. to 2 p.m. Fraternity members passed out roses and treats to women passing by in hopes of brightening their day on the way to and from classes.
Ronjae Cunnikin, president of the fraternity, discussed the purpose of the event.
"This is something that we try to do a lot to show the women on campus that we do appreciate them as they support us in a lot of our events," said Cunnikin. "We want to show them that we love them."
According to Gregory Hardaway, an alumnus and fraternity member, the event also served as an effective promotion tool.
"Every once in a while, we like to do 'Pretty Wednesdays' where we pass out candy and carnations," explained Hardaway. "We do this to also get people interested about the announcements we have. This is a great way for us to promote and get people's attention."
Cunnikin shared what he enjoyed most about the event.
"I love seeing the smiles on the young ladies' faces when we hand them the flower," expressed Cunnikin. "That's honestly the best part of the whole event."