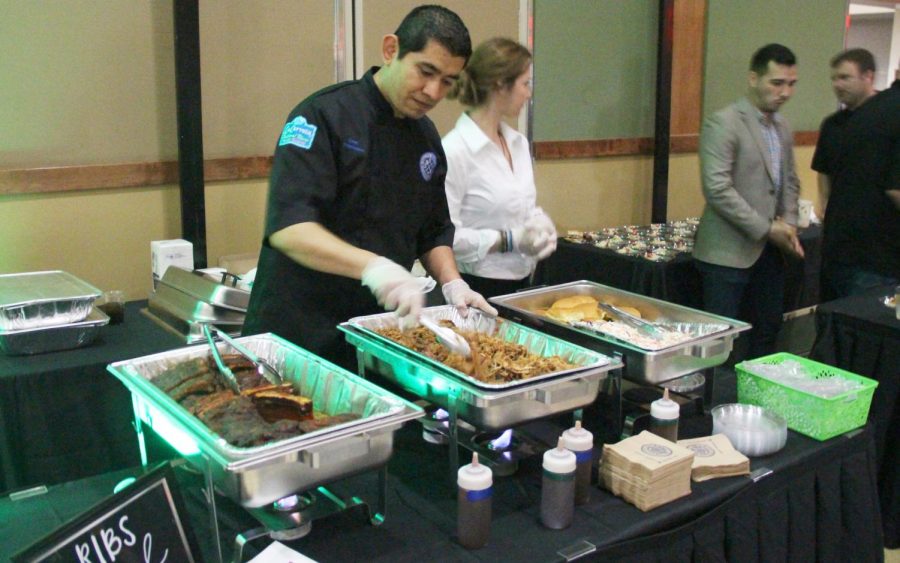 Gerard Borne/The Lion's Roar
University Advancement raised money and displayed some of Hammond's most popular dishes at the 35th annual "Chefs Evening."
The event was held in the Student Union Grand Ballroom on March 31.
Lisa Patti, donor relations coordinator, discussed the history of "Chefs Evening."
"Restaurants all around the local Hammond community come out and display their best dishes to the members of the community," explained Patti. "For the restaurants, it is good publicity, and people get to try some of their dishes. For our event, it is for academic scholarships and academic programs. It is a wonderful cause because it gives back to the community and to our students. It supports scholarships, academic programs, and there is a great display of fellowship from the community."
Patti's favorite part about the event was seeing people enjoy it.
"It is a very good opportunity for the members of the Tangipahoa and surrounding area members to connect and build a strong camaraderie," stated Patti.
The event saw many local restaurants in the Hammond area display their best dishes like Cate Street Seafood Station with its signature "Who Dat Cajun Pasta," Salty Joe's BBQ Shop with pulled pork sliders, Sarita's Grill and Cantina with its popular appetizer "Nachos Tejanos," and Jacmel Inn with its "Jumbo Lump Crab Cake."
Alfonso Flores, general manager of Jacmel Inn, shared how "Chefs Evening" benefits the restaurant.
"It allows people to try one of our dishes that they may not try in the restaurant, or if they like, the customer will know what to order next time they dine with us," explained Flores. "Jacmel has been participating in the event for six years now. We strive to get to know the customer a little bit more and for the customer to get to know the restaurant a little bit more also. Customer satisfaction and customer service are what is most important to us at Jacmel Inn."
Stefan Watts, manager of Our Mom's Restaurant and Bar, enjoyed the event.
"This is actually our first year participating in this event, and we are excited to join and show off one of our dishes," commented Watts. "We hope to see members of the Hammond community come out and dine at the restaurant. Our Mom's recently upgraded its space and built a brand new building to ensure a family-friendly environment."