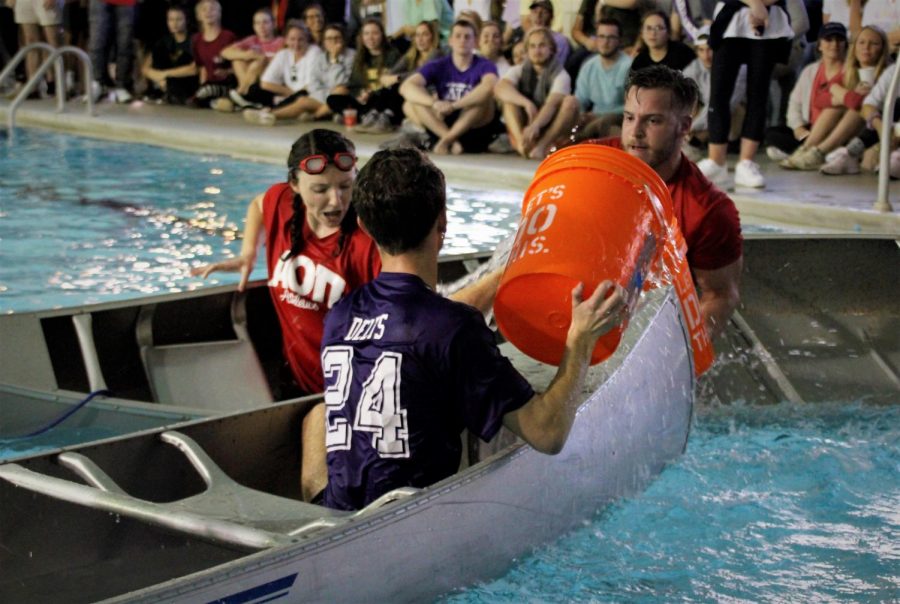 Jacob Summerville
With a couple of canoes, buckets and a pool, students aimed to stay afloat for their team.
The Greek Week "Battleship Tournament" occurred on April 2 at 6:30 p.m. in the Kinesiology Pool. Battles consisted of three to four teams filling a canoe with three players. The objective was to fling water at the other teams' canoes using buckets, paddles and one's hands in hopes of sinking their opponents.
Erin Pender, member of Theta Phi Alpha, explained the challenge that her team faced.
"I think the most difficult part of controlling the canoes was balance because once it started getting filled up a little bit with water, it was just done for," said Pender. "It would go to one side, and you would just get more water in, which is something that I don't think we realized until it was too late."
Anna Watkins, member and nomination for Greek Goddess for Theta Phi Alpha, had a similar opinion as Pender.
"It was difficult because this isn't really something that you can train or practice for unless you have a canoe and a pool and buckets," shared Watkins.
Watkins added that her team learned what to do through the first round, but after the rules were changed to shorten the event, her team would not be able to play an additional round.
Michael Robinson, member of Delta Tau Delta, was on one of the "Spongebob" teams that won the tournament. He enjoyed the competition and thought of the event casually.
"All in all, it's still just a game," said Robinson. "So, it's not that big of a deal, but it's just fun seeing everyone having a good time."
Pender enjoyed the tournament as well and hopes to see the event played outside the Greek Week setting.
"I wish we made a recreational team for it," discussed Pender. "It's a really fun game, but it's more like you just have to practice and develop. For a lot of people, it being their first time doing this event, it's kind of hard to develop a clear strategy beforehand."