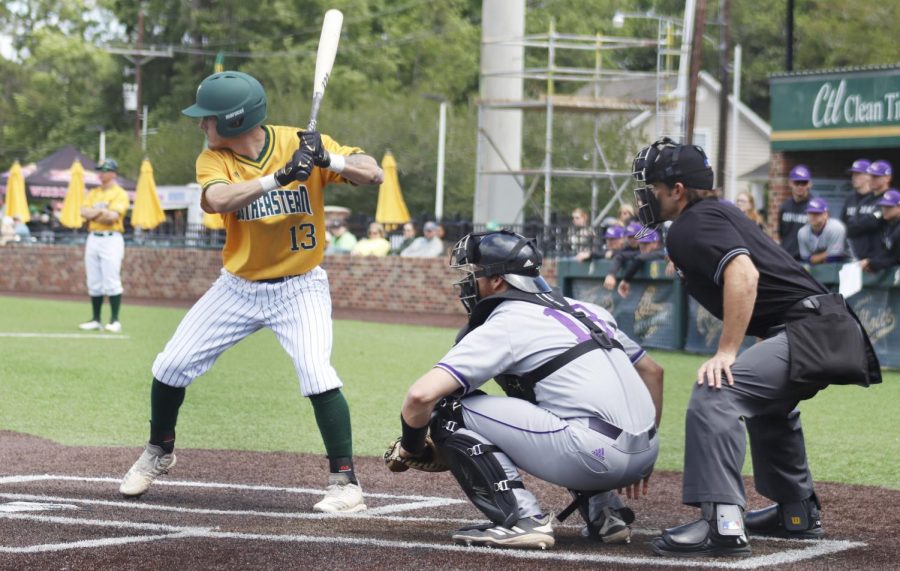 Gerard Borne/The Lion's Roar
The Lions baseball team won the series against the Northwestern State University Demons but dropped the final match.
The first two matches ended with 5-3 and 8-1 victories while the third one resulted in a 1-3 loss. The series put the Lions' overall record at 18-18. In the second game, Preston Faulkner, a sophomore utility player, hit a grand slam.
Faulkner looked to improvements for the next game.
"We obviously need to improve on hitting as a whole," explained Faulkner. "That pitcher was not overpowering for us. We got ourselves out too many times. Of our 27 outs, we probably had 90% of weak outs and strikeouts. We just got to better at hitting, and we have to finish on weekends. We are going to figure out how to do that."
Matt Riser, head coach of baseball, discussed the loss on Sunday.
"It's just our mentality in all honesty," said Riser. "We need to know how valuable each week is and how each game is. It's heartening and disappointing to see us do so great the first two days and then drop the last game."
In the seventh inning, Faulkner broke a no-hitter from Cullen McDonald, a senior pitcher for Northwestern State.
"It felt great to stop his no-hitter," shared Faulkner. "Someone had to do it, so I said, 'Why not me?' You know, I told myself before I got to the plate I was not going to let this guy get me out again. I put the ball in the outfield, and that's it."
Riser explained how the team can improve.
"We need more consistency," stated Riser. "We just need the same team to show up each and every game. In one game, our pitching will be spot on but our hitting will be a little weak, or our hitting will be great but our pitching is lackluster. We need to start playing more like a winning ball club and have a little more consistency."