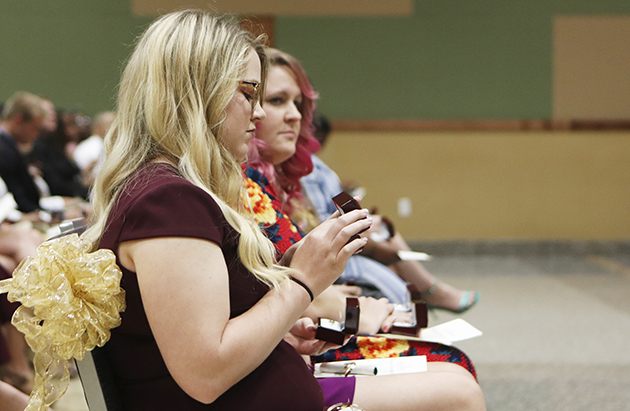 Shaelyn Martinez/The Lion's Roar
Students received their rings to show pride and commemorate their time at the university.
The "Ring Ceremony" was held on May 8 at 6 p.m. Family, friends, faculty and staff gathered to celebrate the seniors' achievements.
The celebration began with Roomie, Chelsey Blank, Miss Southeastern Louisiana University, and Karley Bordelon, 2019-2020 Student Government Association president, escorting the students as they received their rings and took a picture with Dr. John L. Crain, president of the university.
Even though there is a specific university ring style, students can customize their ring to their preference such as with engraving or picking between silver and gold.
Michelle Biggs, executive director of alumni relations, encouraged students to maintain their relationship with the university after graduation.
"The ring signifies hard work and determination that the students went through to get their degree," said Biggs. "It is a symbol of your time at Southeastern as long as the memories that you made while being a student here."
Biggs believes that the achievement aids students in embracing their time at the university and motivates them for graduation.
"When the students get their Southeastern ring, they see it as a sense of accomplishment," stated Biggs. "It's that next step towards graduation and the next step in the path of becoming an alumnus."