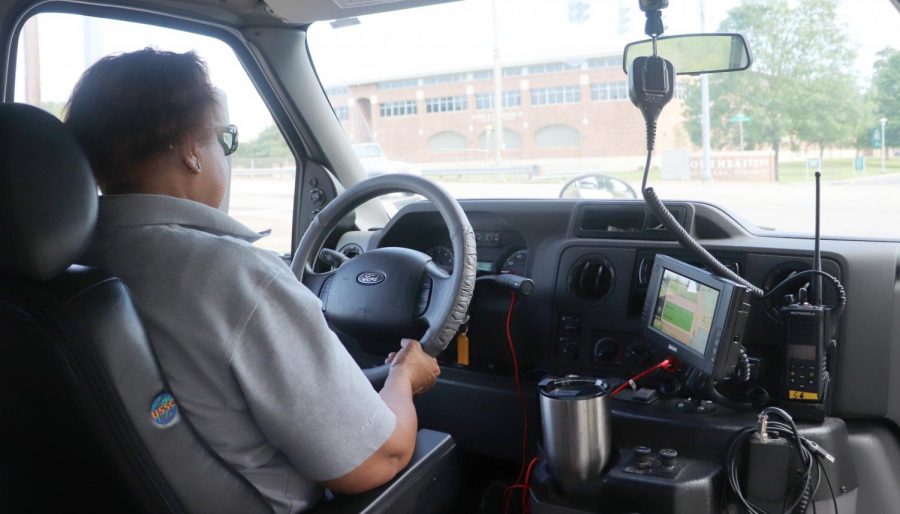 Gerard Borne/The Lion's Roar
Since its start over a decade ago, thousands of students have used the Lion Traxx shuttle service.   
Gary Prescott, director of Transportation Services, enjoys interacting with students using Lion Traxx.
"There is a lot of fun times with the students, and seeing them get on with their friends and joke around is cool," explained Prescott. "You always see a new face and hear a new story when on the bus. While actually driving the buses, students interact with the drivers, just hearing all of the different stories, and you can always count on hearing something that would make you smile."
Karla Rakocy, a bus driver for Transportation Services, explained what her favorite part about being a bus driver is.
"Talking with the students and hearing about how their day went is very special to me," shared Rakocy. "Seeing them grow, make progress and succeed is very neat. In my two years of driving for Southeastern, I have developed relationships with a few students and have seen some go on and graduate."
Prescott explained what students should know before riding the Lion Traxx bus.
"We require that all students have a student ID before riding the bus," stated Prescott. "We also like to encourage students to view our online tracking system. The online tracking system has a live map where you can see where the shuttles are at a certain time. Another thing we like to let people know is we don't have an exact schedule that is to the T. The schedule all depends on how traffic is flowing in the surrounding area."
Linda Wess started driving Lion Traxx two years ago. Her favorite aspect of the job is interacting with new people.
"I like meeting all the new people that ride the buses. A lot of the students who ride the bus are really nice people," shared Wess.
Rakocy explained what the students do when riding the Lion Traxx.
"A lot of them just sit there and listen to their music," said Rakocy. "Some of them will sit down in the first few rows and tell you how their day went or what test they have coming up, but all of the students are very respectable and are nice people."
Wess shared what she encounters when driving the Lion Traxx shuttle.
"I see students talking with one another and having a good time," explained Wess. "Some will study their flashcards for a test, or some of them just tell me how their day is going and ask me about how my day is going. The students will even notice if I change bus routes one day. I drove a shuttle van for both of my nephews who were in wheelchairs. My heart goes out, and I love helping them. I have loved doing it ever since. I just love to help people."
The Lion Traxx shuttle service operates from 7 a.m. to 6 p.m. on Monday through Thursday. Students are required to show their student ID before riding the bus.