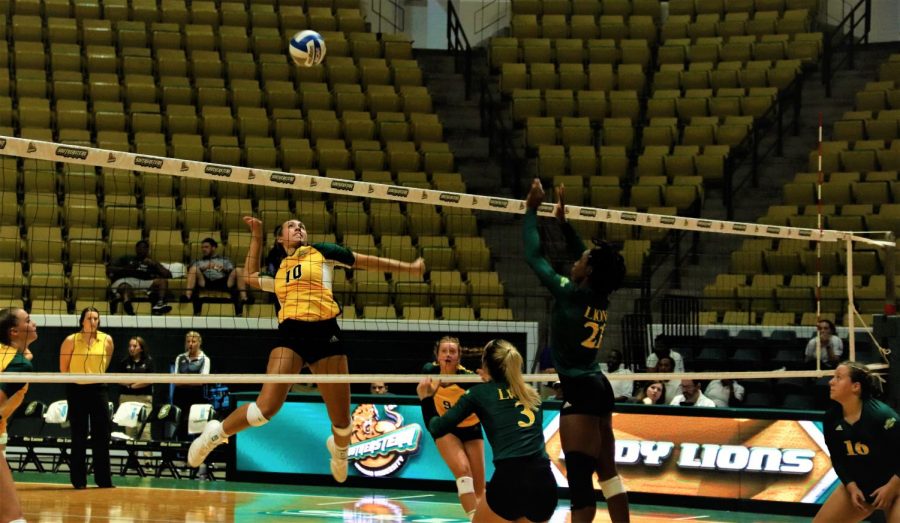 Jacob Summerville
As is tradition, the women's volleyball team played a scrimmage match against one another before facing the first teams on their schedule.
The 2019 volleyball schedule kicked off with the annual "Green & Gold Match" on Aug. 24 at 2:30 p.m. in the University Center. With the roster split into two, the Green team reigned victorious against the Gold team, winning three of four sets: 25-16, 21-25, 25-22, and 25-20.
Jeremy White, head coach, explained that passing and defensive play were the highlights for both teams.
"I was really proud of the blocking on the Gold side. It was tremendous, and we were doing a really great job – and I thought vice versa, our defense on the Green side was doing very well," said White.
Losing by nine points in the first set, Jodi Edo, a senior middle blocker and player on the Green team, shared that the Gold team's vigor increased throughout the rest of the match.
"The Green team had the most intensity on the side, but the Gold team picked it up by the second set, and they brought the intensity," discussed Edo. "By the third set, we both were fighting for it all, and I think finally overall, we had the same energy in the game."
Edo believes that the key to the Green team's success was communication in between serves.
"Each time we were down, lost a couple points, we came to each other in the circle," said Edo. "We talked it out, got our minds right, and we looked on the next point."
The Lady Lion's main season starts on Aug. 30 at the Jax State Invitational. Their first match will be against Troy University.
White shared that keeping the energy and communication flowing throughout the match will help unite the team versus Troy.
"We're playing a little bit like a roller coaster, but when we get down we stay down," said White. "We've got to do a better job of getting over mistakes and focus on communicating as a team."
Sam Gomez, a junior middle blocker, explained that she has seen tremendous improvement since last year through Coach White's guidance.
Looking forward to the invitational, Gomez feels that the team is well-prepared for the match.
"We played Troy last year, so I feel like it's going to be a huge difference, and they're going to be shocked by how much we've grown in a year," said Gomez.