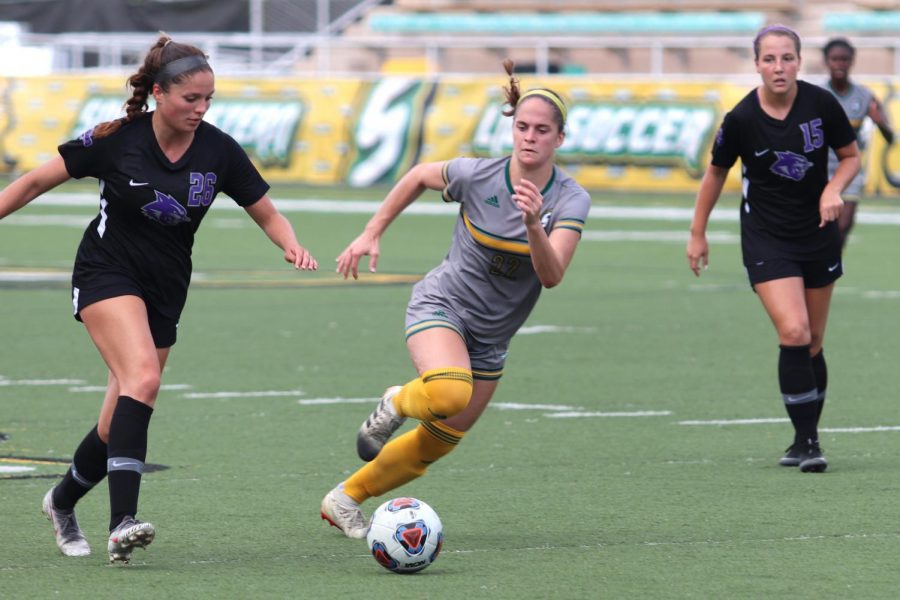 Gerard Borne/The Lion's Roar
On Sunday, Sept. 29, the university soccer team took on Abilene Christian University at Strawberry Stadium.
The Lady Lions went a full 89 minutes in the match up without giving up a single goal, Caylen Wright scored a goal with 12 seconds remaining to defeat Southeastern.
Christopher McBride, head coach of soccer, explained how he felt the Lady Lions performed in the loss.
"I could not be more proud of our girls this afternoon," commented McBride. "We fought like warriors the whole game and played a very talented Abilene Christian team. I think the call towards the end of match was not necessary, the tackle. We did a good job playing the last 10 minutes of the matchup with only 10 players versus their 11."
McBride described what the team needs to improve on in their next match.
"We are really close to playing a full 90 minutes," stated McBride. "When you play 10 versus 11, it changes your game plan. You have to adjust and change your method to play against that extra person. We need to improve on our pressure on the ball and on defense for the next match."
With the loss, the Lady Lions fall to 1-8-1 on the regular season and 0-3 in Southland Conference play. The team will face off against Houston Baptist University on Oct. 4 at 7 p.m.