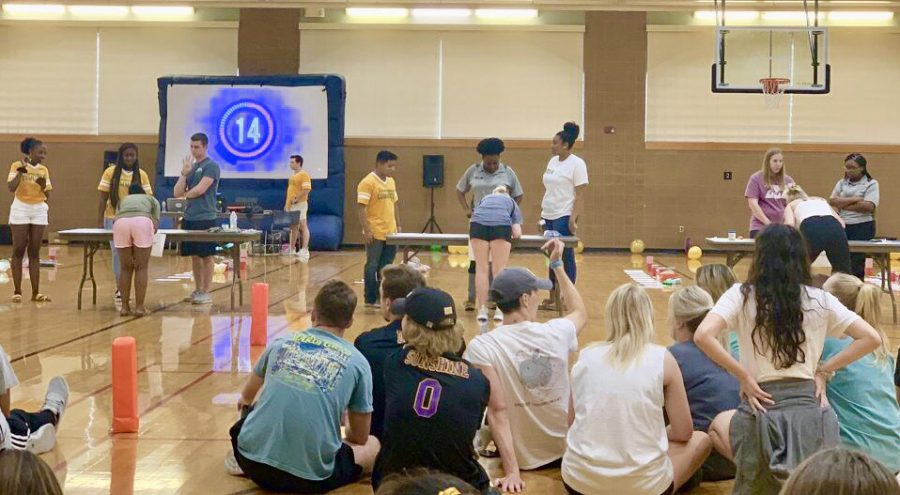 Gabrielle Wood/The Lion's Roar
The university held its annual Minute to Win It competition on Wednesday, Oct. 9th from 6-8 p.m. The event took place in the Pennington Student Activity Center and was hosted by the Student Government Association. 
The idea of the event is derived from the Minute to Win It game show where contestants must complete different challenges in under 60 seconds. 
A variety of organizations are encouraged to play, and any student was able to watch.
Alberto Valenzuela, a junior biological sciences major, discussed how he looks forward to this particular event each year. 
"I feel like having a competition like Minute to Win It is a really good idea for everyone to come together and bond as different organizations during Homecoming Week," stated Valenzuela, a member of the Delta Tau Delta. "There's always just a competitive atmosphere that everyone loves, and the game itself is actually really funny to watch." 
The event ended with the team consisting of Sigma Sigma Sigma and Sigma Tau Gamma winning first place. Theta Phi Alpha, Theta Chi, and Pi Kappa Alpha placed second with Alpha Sigma Tau and Delta Tau Delta following third. 
The overall winner of Homecoming Week will be announced tonight at Lip Sync in the University Center.
To stay involved in the Homecoming activity throughout the week, access the calendar of events on the university website.