Hammond prepares for Starry November Night
The time for Downtown Hammond's annual winter tradition is just around the corner.
Hammond Downtown Development District will host its 15th annual family-friendly event Starry November Night on Friday, Nov. 15 from 5:30 – 9:30 p.m. This year, DDD is introducing new ideas for the evening, including a live local band, new hotspots, kiddie rides, updated train routes and a new activity catered to adults who want to enjoy the holiday spirit.
Olivia Graziano, DDD administrative assistant and Farmer's Market manager, explained that "Dashin' Through Downtown" is an activity recently added to Starry November Night.
"Starry November Night is constantly evolving, and each year it is expanded so that more festivities are offered for guests," said Graziano. "If you 'Dash Through Downtown,' you are required to either dress up in a tacky Christmas sweater or you can dress up as Santa Claus or an elf," explained Graziano. "We're just trying to make sure you look super festive. And that will take you through downtown to get deals and specials that our restaurants, pubs and retails are offering. If you 'Dash Through Downtown,' you get those deals, so that's something that we're really excited about. We're looking forward to it, and that's an option if you're not bringing your kids out."
Some vendors, such as Bryan Wong, promote multiple businesses during the evening. Wong described his experiences with Starry November Night.
"We always participate in different ways," explained Wong. "'Starry' is a great night to enjoy downtown. Whether I am enjoying the evening with my family or working hard to showcase my cafe or restaurants, it's always a night full of great memories."
Wong encouraged everyone to participate and show their support, including students from the university as he believes the festival will offer something for everyone.
"There's something for everyone on Starry November Night," said Wong. "This year especially, we have so much going on in downtown. There are rides, sales, art, an alligator petting zoo and even some totally free stuff. Downtown is a huge part of the Southeastern University family. So many alumni work in downtown and depend on the support of students. So, make sure you don't miss this great event."
Speaking on behalf of Hammond DDD, Graziano described the pride and enjoyment that results from putting on the event every year for guests and for supporting downtown businesses.
"We definitely enjoy seeing the amount of people come downtown that maybe haven't come to downtown before or experienced downtown in that way," said Graziano. "Our downtown is booming with business, that's no lie. We've gotten below 12% vacancy rate, and that's something that we're super proud of, meaning that our downtown is thriving. We want people to experience that."
Events such as Starry November Night that the DDD holds throughout the year are intended to bring the community together and to support downtown Hammond.
"These events really do a good job of encouraging people to explore the area and maybe familiarize themselves with something that they have not experienced before and then continue to discover Hammond," added Graziano.
Starry November Night is open to the public and free of charge. More information regarding the event can be found on the official website and Facebook page of Hammond Downtown Development District.
View Comments (1)
About the Contributor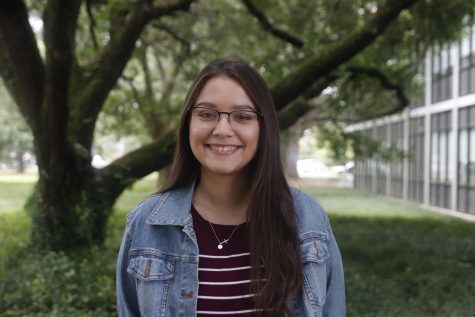 Brynn Lundy, Copy Editor
Brynn Lundy began working for The Lion's Roar in the fall of 2019, her first semester at Southeastern, and now serves as Copy Editor. She is a communication...