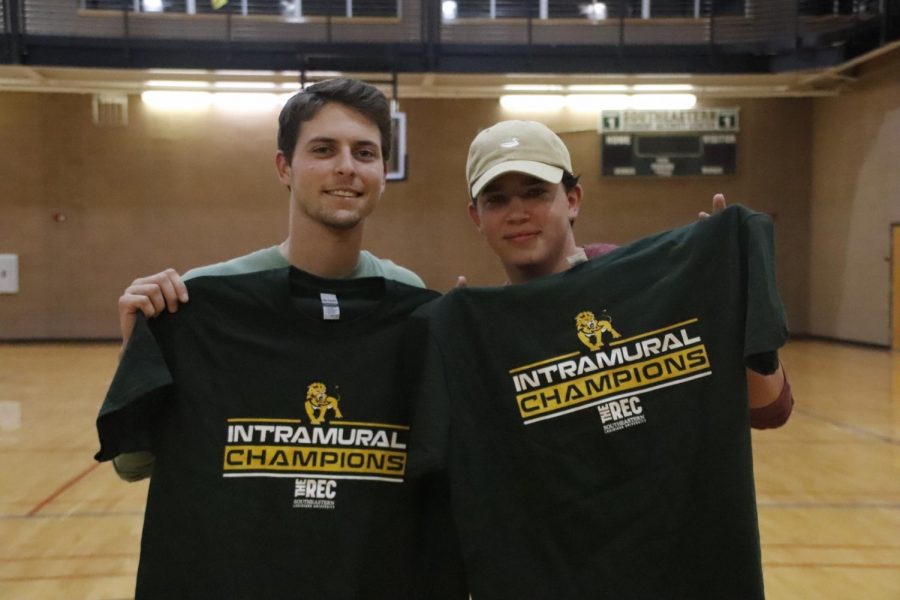 Brynn Lundy
Teammates Preston Gautreau and Gavin Crain reigned victorious in this year's  Intramural Cornhole Tournament.
Eight teams of two competed at the Pennington Student Activity Center on Monday, Nov. 11.
Crain, a freshman criminal justice major, explained how it felt to take the cornhole crown on Monday night.
"It feels great," expressed Crain. "Great start to a solid Monday night. Gonna go ace some tests and exams, get ready for finals. It feels good."
Gautreau, a senior business management major, explained that the cornhole victory was a confidence-booster.
"When tests come around, it feels good, at least we have one dub under our belts," said Gautreau.
Gautreau explained why they decided to register for this year's cornhole tournament.
"Friendly competition," shared Gautreau. "Our buddy said, 'Hey, they're doing cornhole this year. Wanna play?' I was like 'Yeah.' We play all the time, not in tournaments here, but at tailgates and stuff like that."
Jason Templet, director of competitive sports, described how this year's tournament was more successful than last year in terms of attendance and participation.
"We definitely had a lot more participants here tonight and teams," explained Templet. "So, it's definitely a bigger turnout, which I was pretty happy about."
For this particular event, participation was open to all students.
Templet explained that students were able to sign up prior, but sign-up was also available until right before the competition started. 
"Any students can participate," stated Templet. "A lot of our Greeks do compete in this, but it doesn't have to be. We do have some friends that just showed up and decided to play. We notify them through our website that we use, which is IMleagues.com. You can sign up on there or you can just show up tonight and just sign up when you get here."
The Fall 2019 intramural event schedule can be found on the university's Recreational Sports & Wellness webpage. Students can register for intramurals through IMleagues.com and ask questions at [email protected]