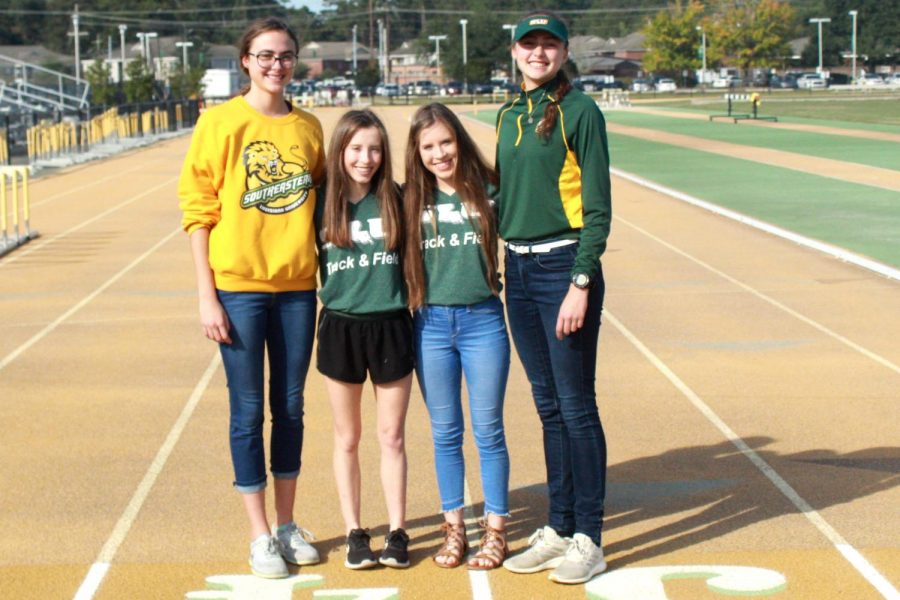 Symiah Dorsey/The Lion's Roar
Siblings become more susceptible to rivalry when they play on the same sports team, but many of them also claim that university athletics have brought them closer together.
The university has multiple siblings that compete on the same team in sports such as softball and cross-country.
Madisen Blackford, a junior utility player of the softball team, explained that she has been playing sports with her sister for the majority of her life.
"Honestly, I don't know what it's like not playing with my sister," shared Madisen Blackford. "I've played with her since I was six years old, so we're always around each other, and we always play together for every sport."
Madisen Blackford also discussed how sports kept them together and allowed them to have similar experiences.
"If we didn't play softball together, we probably wouldn't be at the same college," said Madisen Blackford. "So, we're experiencing all the same struggles with classes, practices and everything."
Hannah Blackford, a sophomore utility player for the softball team, explained that playing a sport with her sister caused arguing but ultimately brought them closer.
"Just being at practice, we're around each other 24/7 and although it causes more bickering, it has brought us a lot closer," explained Hannah Blackford. "She knows what I'm going through, so I can talk to her about it because we're experiencing the same thing."
Hannah Blackford also elaborated on the sibling rivalry that has taken place.
"Even though we're competing on the field with other people, we're always competing against each other too," shared Hannah Blackford. "If I do 10 pushups, she has to do 11. We're always going head-to-head, but I'm grateful to say the least."
The women's cross-country team recently recruited two sets of twins: the Vignes sisters from Ponchatoula, Louisiana and the Tournoux sisters from Springfield, Illinois.
Belle Vignes, a freshman distance runner, explained that having her sister in the same sport gives her someone to rely on.
"I always have someone to run with," said Belle Vignes. "I always have a support system. I've been doing sports with her my whole life, and we started running in ninth grade."
Belle's twin sister Blair Vignes, a freshman distance runner, discussed how the sibling rivalry with her sister gives her motivation on the track.
"We're always competing about who's gonna reach the finish line first," explained Blair Vignes. "'I'm lucky for it though because I always have someone to motivate me and make me better."
Berni Tournoux, another freshman distance runner, explained that she gets through difficult times with her sister.
"In sports, you go through a lot of things," stated Berni Tournoux. "Through everything that's really hard with the sport, we just get through it together. I never compete against my sister. We do always push each other, but I don't really care if I win or if she wins."
Brigid Tournoux, freshman distance runner, shared that she is more competitive than her twin sister.
"It's definitely the same thing as Berni said, but I'm definitely more competitive," mentioned Brigid Tournoux. "Sometimes I do care when she beats me, but I'll just be like 'Oh I'll get you next time."
Brigid Tournoux also expressed gratitude that she chose the university and stayed with her sister.
"We toured a lot of different colleges before we ended up here," explained Brigid Tournoux. "We went to South Carolina, Georgia and then we came here and we just loved the team, the coach and the atmosphere. Everything just felt whole. We almost separated, but I'm glad we didn't. It's much better together, definitely."