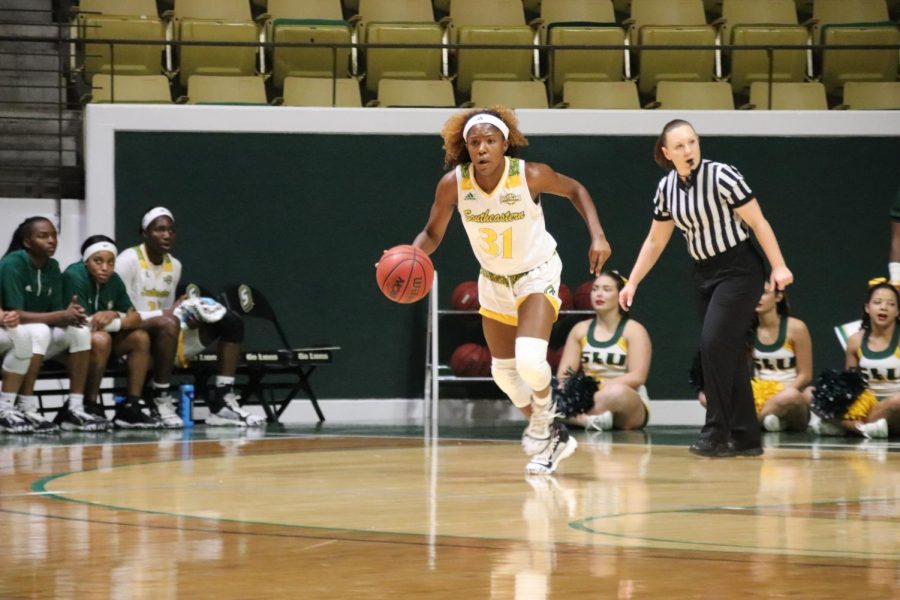 The Lady Lions hosted their first home game of the 2019-2020 regular season with a win over Louisiana State University of Alexandria on Wednesday, Nov. 27.
With the second win of the season, Southeastern improved their regular-season record to 2-4. 
Head coach Ayla Guzzardo explained what are the things the team is doing good in on their win streak.
"Everyone is shooting the ball really good right now," said Guzzardo. "We have multiple people scoring. We were in a shooting drought at the beginning of the season and we're finally starting to shoot the ball well."
The second-year head coach shared what she told the team in the locker room during half time to adjust.
"We told them that we have to stop second chances," explained Guzzardo. "I told them that we had to limit second-chance opportunities in order to come out this game in the win column."
Guzzardo shared why LSUA was such a tough opponent for the Lady Lions.
"They're known for scoring the ball a lot," said Guzzardo. "They were a hard-fought team who never really gave up."
Guzzardo explained what the Lady Lions have to improve on for the next matchup.   
"We have a lot to improve on," stated Guzzardo. "We have to improve on our turnovers, we turned the ball over way too much against this team. Another thing is we need to improve on sharing the ball. Our assists need to come up and we need to be able to score on the offensive end and we need to try and keep teams under 50 points."
The Lady Lions next game will be at home on Dec. 7 against Jackson State tipoff is scheduled for 1 p.m.