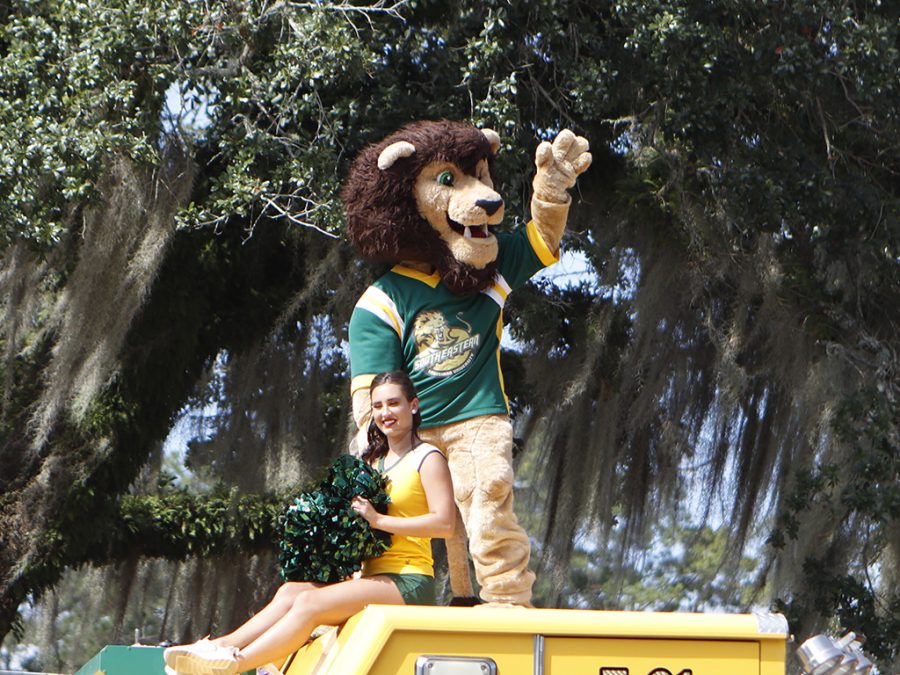 File Photo/The Lion's Roar
As the current Roomie is about to graduate, the university cheer team is looking to recruit a student who wants to represent Roomie the Lion.
Catherine Lawrence, head cheerleading coach and spirit director,  informed that the new mascot will be trained and assured that there will be little to no difference between the old and new.
"Roomie attends a workshop to get down all the traits of our Roomie," explained Lawrence. "We want to make this transition seem as if it never happened. The goal is for the crowd and fans to never know who is in the suit, they all have to carry the same traits when in suit.  They also attend a weekend-long college camp with the spirit programs to learn more generalized mascot ideas."
Lawrence talked about what the auditions will entail and what the group is looking for.
"The tryout process of Roomie will involve an interview session with all candidates," explained Lawrence. "It will involve each candidate getting into the suit and showing us their best Roomie traits, such as his walk and how he interacts with others. We put together a panel who works with Roomie for events to help pick out the next candidate."
Through time and effort the student puts into representing the mascot, they gain many benefits.
"Being Roomie comes with having all the benefits of our Spirit Program," said Lawrence. "Access to our athletic facilities such as weight room, training room, academic center, priority schedule and much more. They also receive a scholarship to help with all the time spent being Roomie.  He attends events all through the summer, fall, winter and spring."
Olivia Nesom, a senior history major and cheerleader, discussed what she thinks of Roomie.
"To me, Roomie is the heart of Southeastern," said Nesom. "Roomie has the energy and charisma that enables him to uplift the spirits of everyone around him. Roomie should be someone who embodies Southeastern at its entirety. The current Roomie eats, sleeps, and breathes Southeastern, and it definitely shows inside and outside of that lion suit."
The current Roomie was able to share their experiences and what it means to him.
"If anything, it has taught me to better my time management skills," said Roomie. "While being Roomie is important to me, taking care of my school work is a top priority. I can say that through all the time I have been Roomie, it has been some of the most memorable experiences I have had."
Students looking to audition for the mascot should contact Catherine Lawrence at [email protected]