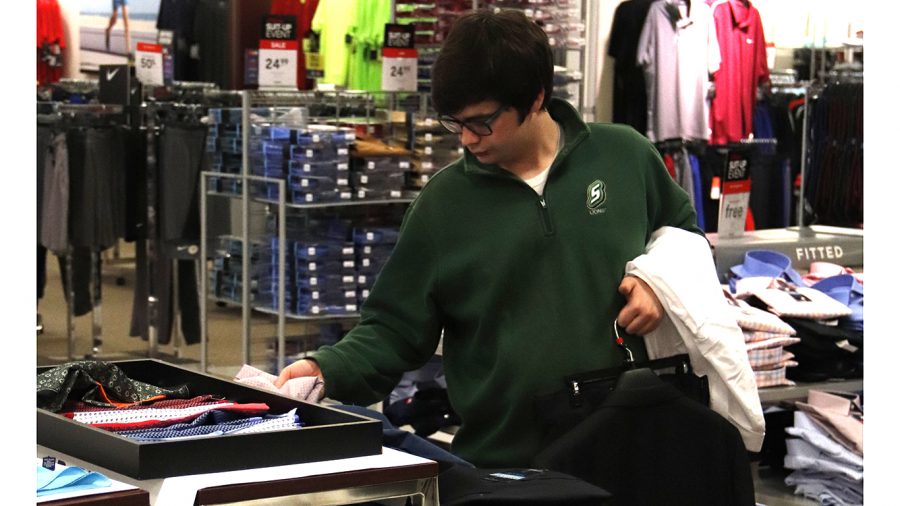 Jacob Lofton/The LIon's Roar
Students and faculty took advantage of sales at J.C. Penney during the Spring 2020 J.C. Penney Suit Up event.
The event takes place each semester in the weeks preceding career fairs, internship fairs, part-time job fairs, Biz-Connect and Tech-Connect. This semester's Suit Up event took place on March 8 from 4 p.m. to 8 p.m.
Craig Marinello, the manager of student employment and internship development, and his team with the Office of Career Services played a significant role in the planning of the event.
"It's our team at the Office of Career Services," said Marinello. "We have a relationship with J.C. Penney. We identify what date we want to do this on. We do it prior to any career fairs, job fairs, things like that. We'll have another one before the big career fair at the end of August, beginning of September, so it's all strategically done that way."
Marinello explained what kinds of things students should be preparing for with this event. 
"It's for career fairs, job fairs, when you're interviewing, anything professional, professional networking, things like that," said Marinello. "With multiple events coming up in the very near future. We have the part-time job fair, an internship fair, we have Biz-Connect, we have Tech-Connect, which is specialized job fairs for the College of Business and the College of Technology."
Angel Collie, a sophomore psychology major, shared what event she was preparing for with the event. 
"We have a Lion Leadership seminar next month, so next month we'll talk to people in our profession, inside our major professions and go from there into interviews," said Collie.
The event featured sales of up to 60 percent off of professional attire, with additional coupons, raffles and department sales also on display. 
Collie commented on what made the event helpful for students.
"I think it's good because it gives a sale on business clothes and everything which is kind of expensive," said Collie. "So for students it's good. It's in our price range and everything."
Marinello closed by sharing how he enjoys helping students with more than just finding professional attire for an affordable price.
"It's just being able to interact with students and help them, because oftentimes, a conversation about clothes will then lead to 'Hey, what do I do in this situation with my resume, or with my interview?" said Marinello."It's things like that or there are many opportunities so that we can help show them where the opportunities are for jobs."