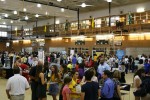 The first Northshore College and Career Fair was held in the Pennington Center Tuesday for high school students to find out information about secondary education from universities across the nation.
"The purpose of the event is for recruitment, a way for high school students to come and visit other colleges," said Keslie Smith, coordinator of recruiting at Southeastern's Office of Admissions. "Formerly known as Tangi Night, this year we have partnered with St. Tammany and have changed it to the Northshore College and Career fairs."
Koepp also mentioned the parking space allotted for the vendors. University Police had set aside the lot beside the Pennington Center and, along with the Office of Admissions, the event seemed to be well planned.
"I've attended this since 2001," said Koepp. "It was very organized this year, as far as the parking, and it was very nice to have that space reserved for easy