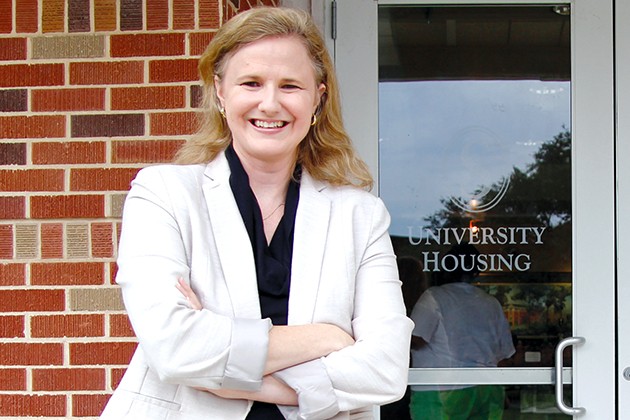 Dr. Pamela Rault steps into a new leadership role as the director of University Housing. Rault considers the opportunities that accompany the position from the two residence halls undergoing construction to enhancing learning communities.
"It's an opportunity for me to serve the university in a different capacity," said Rault. "I'm excited about the ability to come in and help take housing to the next level, especially with the two new residence halls coming on board. There's an opportunity to be doing a lot more outreach and programming."
Vice President for Student Affairs Dr. Eric Summers believes Rault's transition from Student Engagement to University Housing will benefit the university.
"Dr. Rault assuming the role of housing director is not only good for residential life, it's good for the university," said Summers. "All of the programs that Dr. Rault supervised in DSA such as the ExCEL program had an outstanding retention rate under her leadership. She will no doubt take the same approach that she had in DSA to her new role in housing to improve the success of students living on campus."
After joining Student Engagement in October 2014, Rault found a new appreciation for the university's close knit environment.
Rault said, "When I was interviewing initially at Southeastern, everyone talked about the Southeastern family, and it did not take very long for me to understand and to actually feel part of that family. Even though I've only been here for a couple of years, I very much feel like I'm part of that family."
Rault discusses her ambitions with the position.
"I would like to focus on just recruitment and retention," said Rault. "When you're thinking about housing, it deals with both of those. It's housing recruitment for the incoming students who are not students yet, but it's also recruiting students who are already on campus to say, 'Hey, you may be a commuter student right now, but why don't you come over and check out housing. It may be something you're interested in.' From the retention side, statistics show that if you live within campus housing, you are more engaged in the campus."
Rault sees her colleagues as an aid in resolving any challenges on the job.
"I have a very supportive division within Auxiliary Services," said Rault. "They're definitely supportive. They want to see housing succeed, and they've really reached out to me many times to say, 'Hey, do you need anything? Let us know what we can do to help.' I think that having those relationships with colleagues is something that is very important to me and will help me succeed in this position."