West retires after 36 years of services
Interlibrary Loan Department Supervisor Barbara West retired from the Sims Memorial Library on Oct. 20 after providing 36 years of service to the university.
Born in New Orleans, West is the eldest of the six siblings in the family. She completed her associates degree in what was then called the "key punch operator."
West entered the university in 1981 as library specialist in the Catalogue Department and climbed her way to becoming the supervisor in 1991, a position where she supervised the graduate assistants and student assistants. She was the main go-to person for finding articles and the books.
West expressed her "mixed emotions" about retiring.
"I am excited about retiring, but then I am also wondering, now what?," said West. "It's going to be a new chapter of my life. I am sad, but I am also happy at the same time."
West will be moving to Colorado shortly after her retirement and plans to stay there for two years.
"It's been a good experience for me," said West. "These people I work with have become my family. I learned a lot while working here."
West was a member of the production of "For Colored Girls Who Have Considered Suicide/ When the Rainbow Is Enuf" play in 1990, the first play in the university by an all African-American cast. She played the role of Lady in Orange.
"I was actually dragged into it by my then supervisor," said West. "We went for the auditions, and I got the part. We did the play twice. We did it here on campus, and a few months later we did it in the downtown Hammond. It was a smaller cast, but a lot was done on the stage. The play was about the different feelings African-American people had in their life and were going through like suicide."
West remembered the positive memories that she had during her stay in the university.
"I don't remember which year it was, but we had a softball team," said West. "We would cook and visit with each other afterwards, and go out to dinner. I have fond memories. Like I said, we were like a family. Southeastern has been my family."
West remembered the times she initially started, and the changes she has witnessed.
"The number of students then was way under 10,000," said West. "There have been so many changes along the way. Everything has been computerized. The main differences has been the tearing down and building in. Buildings that you think would have been landmark have been torn down, like the Twelve Oaks Building."
West remembered moving from the old library, which is currently Garrett Hall.
"They loaded books on the trucks, and they put it on the back of a moving truck," said West. "We were on there to hold the trucks to keep them from swinging, so we had like a human chain."
Library Specialist in the Cataloging Department Roxann McHodgkins recollected the fond memories of working with West.
"She is such a strong woman, a woman of ethics," said McHodgkins. "She is always full of energy and is always positive. She had a little box when we would press it would shout, 'Get me out of here,' and now she is really going."
Library Specialist in the Acquisitions Department Lisa Perrilloux, who initially worked as student worker, was hired by West and worked with her for 10 years.
"It's heartbreaking," said Perrilloux. "She will be missed. She is such a good person, and always so helpful. She is always energetic. It was a very good experience working with her."
About the Writer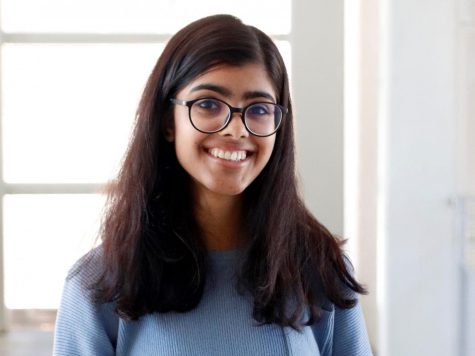 Prakriti Adhikari, Editor-in-Chief
Prakriti Adhikari is an accounting major and an international student from Kathmandu, Nepal. Adhikari has been working with The Lion's Roar since Fall...