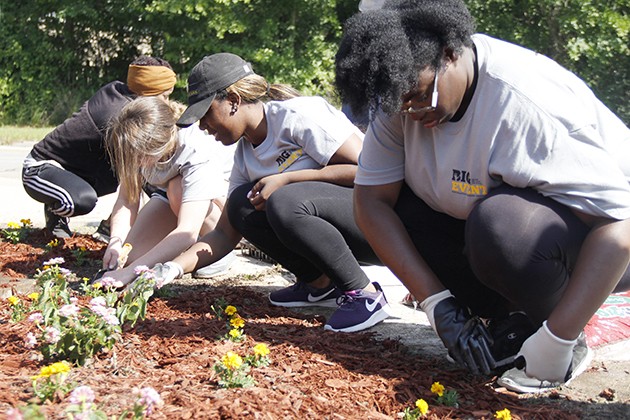 The Student Government Association feels community is key and expresses this by hosting "The Big Event."
2018-2019 SGA President Richard Davis Jr. feels "The Big Event" allows students to recompense the community for the hospitality they offer students via discounts and jobs.
"This is a day to give back to them and just show them that we really appreciate all that they do for us," said Davis.
37 job sites were assigned to approximately 600 students from various student organizations.
Davis explained how some organizations in the community they helped.
"We are also washing the fire trucks at the fire station," said Davis. "We have a canine sanctuary in west Hammond."
Precious Souls Canine Rescue and Sanctuary is run by a widowed woman. She takes care of 28 dogs. Several of them are blind.
Instructor of Teaching and Learning Valerie Young, a member of the "Stressed Methods Crew," was at the volunteer site and explained why her group decided to join.
"We wanted to do something as a class, and one of our students, Hannah Fork, is in the organization," said Young. "She's actually one of the persons putting it on today, and she asked if we wanted to participate, and we all said, 'Yes.' We all decided to meet up at a time and join in and help out those who need help."
Young discussed the type of jobs they were taking part in.
"We are helping her clean around the house, around the yard, walk the dogs because she doesn't have time to walk them all, play with them because there's not enough people to play with them, and work on the cemetery," said Young. "She has crosses for all of the dogs who have passed."
Baptist Collegiate Ministry member Samuel Taylor, a senior biological sciences major, was a volunteer at Special Olympics Louisiana and feels that "The Big Event" was a good way to connect the campus with the community that many students will end up in upon graduation.
"The day's been great so far," said Taylor. "It's a beautiful day, and it's going well. We have two different teams here, but we are meshing well and just getting the job done. I know our teams are just really excited to be out here serving our community."