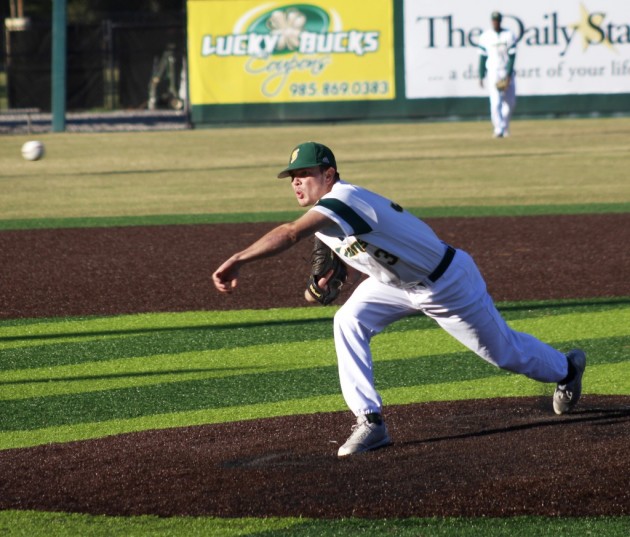 With the Juice Box Boys taking the Fall World Series 2-1 against Ice Cold Pitchers, baseball practice for fall has been concluded. The series provided an opportunity for the team to assess their position.
"Big group, 17 new guys, I thought we made a lot of progress throughout the fall," said Head Coach Matt Riser. "It's always fun to sit back at the Fall World Series and kinda watch the guys adapt to some things and how the leadership takes over. There are some things we need to clean up. There's no doubt."
Riser thought the team is a work in progress and felt the series was a chance to work with the players before resuming action in spring.
"The guys are really starting to figure out how we play," said Riser. "I think we play a different style of baseball and the quicker they can learn the pace of things we do, the more success we can have. So I think, right now, being at the end of the fall, we know we're not gonna win a championship here in November but we know definitely we're building towards it. We're in a good spot to pick it back up in January."
Senior infielder Taylor Schwaner described how the team performed in fall.
"I think the fall went really good," said Schwaner. "Early on, I think a lot of guys were getting used to how we did things in our program, playing fast and little things we do and as they start to get caught on, it went smooth. Now we're just trying to build on that and get ready for spring."
Riser pointed out the objectives he had for fall and gave his remarks on if the team was able to achieve them.
"The biggest thing was I wanna see the leadership," said Riser. "I wanna see the guy's accountability; how they're gonna hold themselves accountable without the coach or staff being there. You know what the senior leadership would do from an accountability standpoint. Not only hold themselves but the teammates as well. That's probably a little bit of a disappointment. We've got to continue to work on and see to get better."
With 17 newcomers in the roster, the fall practice displayed a competition for starting position in the line up.
"It's been fun to watch," said Riser. "Some guys have raised their game. I think Brennan Breaud and Cody Grosse kinda are battling right now. Just need to see that, we're bringing in these guys and some of the veterans raise their game up. I think the outfields wide open right now. There's a few guys that have made some strides. Obviously, Drew Avans will be out there for us. But I thought Nathan Pilutti and Bryce Steckler made two big impacts out there this fall. They'll definitely be competing for that starting job out there with Trey Shaffer. Behind the dish, it's been competitive as ever. Wasinger and Pace, still kinda waiting for those guys to emerge as the everyday guy, not only offensively but from a defensive standpoint as well. Hopefully, we'll see how they finish up."
Riser also talked about the senior players he had to replace.
"We had the six seniors last year graduate," said Riser. "It doesn't seem like a lot but five of them of those seniors were in our line up every single day for three years and some of them for four years. So it's a lot of experience you gotta replace and a lot of leadership you got to replace."
Schwaner is one of the senior players in the roster. He explained how he wants to carry out his role in the team.
"Just trying to lead by example anyway I can to try to help those young guys out and just do my part trying to help the team win," said Schwaner.
Riser also spoke about the spring season which gets underway with nine consecutive home games.
"Last year, we had a lot of road games against some stiff competition," said Riser. "We get a chance to get home early. Obviously get some momentum build going into conference play. The UConn weekend's gonna be a really big weekend for us. We've got to be able to play our game and kinda speed it up to where we can some success. That weekend's gonna have huge implications by the end of the year."
The baseball season will begin on Feb. 16 against Southern Illinois University-Edwardsville.