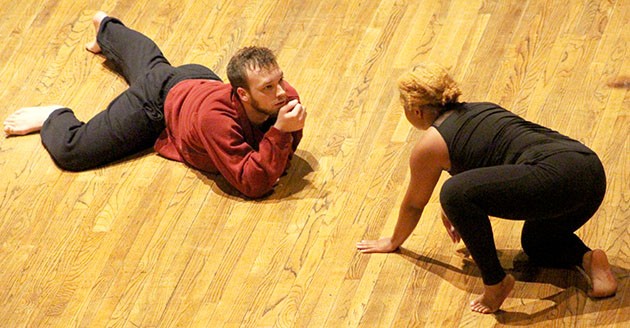 The university's Dance Performing Project 2 presented a dance routine that rallied up the evening's energy and let it flood into the crowd.
"I enjoyed the creativeness of the dancers to be able to connect to their movements so much right on the spot, said Madeline Aldana, a general studies major with a concentration in dance. "A lot of this is improv, so the fact that they can just really draw from within themselves and create the movement on the spot is really amazing."
DPP2 presented "Dance Interwoven: A Night of Improvisational Dance & Music" in Pottle Auditorium on Tuesday, Oct 10 at 5:30 p.m. The first event of the night took place in the forum outside of the Pottle Music Building.
Dominique Roubique performed a song with an acoustic guitar in the middle of the forum while several members of DPP2 ran around the walkways near Pottle.
After the first song, the crowd was led into the entrance hall of Pottle where they were greeted with another performance. Afterwards, the audience took their seats in the auditorium.
The show continued with a dance-off between various decades and silent dances that were intended to evoke suspense and sadness. The show also included a charade game with a couple of blindfolded performers paired with a couple of non-blindfolded performers in which the audience tried to guess what the performers' motions represented.
The night ended with the duet of Ashley Barbarin and Joseph Matherne, followed by a dramatic dance including solo trumpeter Austin Dugas.
Barbarin, a dance major and performer explained how the performance came into fruition.
"We started at the beginning of the semester, and we all came up with different ideas," said Barbarin."So, someone would bring an idea, and then we'd work with that idea. We would have to recreate it the next time we came into the studio. Eventually we came to a decision of the dances we wanted to stay. Some people threw in extra things and different elements that we hadn't discussed. It was a surprise for some of us to see what was going to happen when we were on stage."
The student-based performance was also a favorite element for Director of the university's Dance Department and Artistic Director for DPP2 Keith "Skip" Costa.
"It was conscious choices that we made, and it was interesting to see how the student created their [choreography] maps," said Costa. "They put together a map which defines what each dancer will do in space across the floor and what their obstacles and their tasks are in the map. There's maps that they do in their heads, they bring it to life in the studio and that goes from the student to the stage."
Costa also explained how some performers were required to improvise during the concert.
"There was a piece that had an original composition," said Costa. "It was the piece that had the shirt, the chair and the two dancers. But for some reason, that [musical] piece ended, and the next that played, which was the closing song, came on. So, the dancers just adapted and kept going with it. That wasn't really a part of the map. They responded to what they were hearing based on what they were given as instructions by their choreographer within the map."