DPP presents 'The Movement Project'
The university's Dance Performance Project gave student choreographers a chance to present a dance routine that they developed over the course of the semester.
"The Movement Project" was held on March 7 and 8 at 7:30 p.m. in the Vonnie Borden Theatre. Nine dances were created by eight student choreographers, but the performance started with "Empty Spaces" choreographed by Artistic Director and Director of Dance Keith "Skip" Costa.
Costa explained the theme of "The Movement Project."
"It is better defined by the artistic creativity that each choreographer has chosen to convey the meaning of their work through individual movement choices represented in each work they present," said Costa. "It gives student choreographers a platform to brand their artistic vision and place a stamp on their individual movement style as dance makers."
The show continued with "Shadows" by senior psychology major Alexis May and "Cornered" by junior marketing major Amber Whiteside.
Whiteside said that the message of her work reflected on four corners that represented four emotions.
"Each person had their own emotions about their past," said Whiteside. "One was angry. One was happy about their past and wanted to go back. One was confused about their past. One was sad. So, that was mainly the message, just wanting to get back there, and when they did, they each had a moment and different emotions. They came to end and had to accept that they can't change it."
Whiteside explained that she got her inspiration by reflecting on her life.
"I was looking at myself just thinking about how I got to where I was," said Whiteside. "Not in a bad way or a good way, but just, 'How did I get here?' I just started thinking about it, and it kind of just inspired me to create a piece."
"The Masque" was the sixth piece presented, and it was created by senior history major Hayley Jordan. She explained that her work was inspired by Edgar Allan Poe, and she wanted to create an adaptation to Poe's work "The Masque of the Red Death."
"I've always been very inspired by poetry," said Jordan. "One of the things that I've recently inherited from my great-grandmother was her book of all of Edgar Allan Poe's poems and short stories that happened of be in there."
Jordan stated that producing this play was entirely new territory.
"I wanted to really do something out of my comfort zone this semester because I've only worked with very intimate and personal trios and duets," said Jordan. "This was something very out of my comfort zone, to take a large group and the choreography."
The show's 10th play, "Stay" by sophomore social studies education major Alaura Cervini, concluded the evening.
Sophomore kinesiology major Grace Klein gave her thoughts on the performance.
"Honestly, I came out because I had to write a paper for it next week, but I've always enjoyed performances and stuff," said Klein. "One of my friends is in the performance, so I kind of came to support her too. I didn't know what to expect first coming in, but seeing all of them, they all kind of had a common thread of eternal conflict."
Klein was impressed with the performances.
"I know they worked so hard on it," said Klein. "I knew it was the dance department that put this on where it was a recital with just students, but seeing this kind of makes me want to come back."
Three of the students' performances were selected to compete in the 2018 American College Dance Association National College Dance Festival in April. They are "What is a Future?" by graduate student Forrest Duplantier, "Coldwater" by Cervini and "Empowered Support" by sophomore business management major Doreen Rolen. If any of these works are selected to represent the Southern Division of the ACDA, they will be performed at the Kennedy Center in Washington, D.C. in June.
About the Writer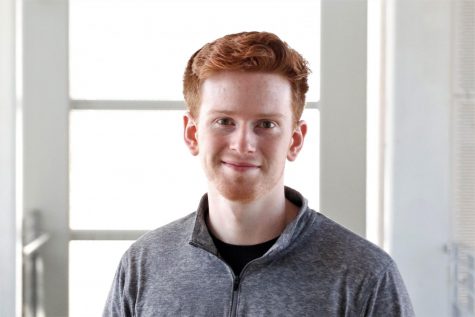 Jacob Summerville, Editor-in-Chief
Jacob Summerville, a history and political science major, has worked at The Lion's Roar since September 2017. A native of Greenwell Springs, LA, Jacob...