Developing sales skills through competition
The college of business organized "Southeastern Sales Challenge" to help develop "real world ready students" who role-played as sales representatives. The competition was held in Garrett Hall on Friday, Feb. 23.
11 students participated in the competition as a part of the new Advanced Professional Sales course offered by the marketing faculty in the college of business. The students faced a buyer for 15 minutes where they convinced the buyer to buy their item. The video was livestreamed to the judges sitting in a separate conference room.
Junior marketing major Richard Mathis Jr. looks forward to participating in an internship this summer. He shared his experience of role-playing as a sales representative.
"It was definitely an eye-opener," said Mathis. "I am studying marketing, and I always wonder what it's gonna be like when I graduate, when I actually step out into my field. Going into the room, it just made it kind of surreal."
The students prepared for the challenge by working with a professional salesperson who coached them.
Associate Professor of Marketing Dr. Terri Tara Lopez shared the reason for organizing the competition.
"We have a lot of employers who come to us looking to hire students who can transition from college into the sales profession," said Lopez. "In order to make that transition easy for students, it's better for them to have real, practical experience."
Lopez discussed the further benefits of the competition.
"There are studies of other sales programs, and they find that students from sales programs are more likely to stay with the company," said Lopez. "They're also more productive once recruited. So, a lot of companies actively recruit specifically from universities that have sales programs, and it's because they can participate in programs like this and see the value. The employers can come and see our students role-play and see the skills they have, and they can recruit the students."
Retired hospitality sales executive Brink Grush judged the program and was happy with the students' performance.
"They did a really good job," said Grush. "You could tell they were prepared. They did a fantastic job. Their interest level was extremely high."
District Manager for Humanities and Social Sciences at Pearson Education Julie Morel was another judge. She reasoned how the program helps students face the outside world.
"I think having sales training in a class environment or campus environment like this really prepares them for the kind of sales training that we would put them through once hired," said Morel. "So, it gives them a competitive advantage over other students who may be applying for the same position."
Senior marketing major Dillon Cockerham, who was the runner-up, talked about the challenges of the competition.
"It was pretty tough, not a lot of information on the product," said Cockerham. "But, it wasn't that bad. You just kind of had to twist it into how you can help them and prove them and answer their problems and how you can have solutions."
Senior business management major Joshua Balli was pleased with the addition of Advanced Professional Sales classes.
"This class just started this semester," said Balli. "So, this is something new Southeastern is doing, and I believe this is stepping in the right direction for business school."
The winner was senior marketing major John Roberts while the three runner-ups were Cockerham, junior marketing major Abigail Benson and senior business management major Joshua Sapp. The two alternates were senior marketing majors Justin Molina and Kristal Terrell.
The winner, three runner-ups and two alternates of the competition will participate in the "Bayou Sales Challenge" at Nicholls State University on Friday, March 2.
About the Writer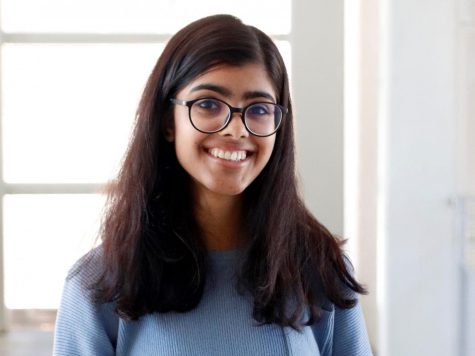 Prakriti Adhikari, Assistant Editor
Prakriti Adhikari is an accounting major and an international student from Kathmandu, Nepal. Adhikari has been working with The Lion's Roar since Fall...