Organizational News
Southeastern Marketing Association
The Southeastern Marketing Association along with other College of Business student organizations is
hosting The College of Business Social Thursday, April 29 at Gnarly Barley Brewery. For more information
you can contact SMA through their Instagram @SMA_SLU.
University Counseling Center
As Summer approaches, we understand the stress that the end of the semester can hold for our students.
Starting on April 4, the University Counseling Center will be hosting self-care seminars to assist our
students in practicing effective self-care. These seminars will be hosted three times a week through Zoom
and can be joined by clicking the image below or by following the QR code.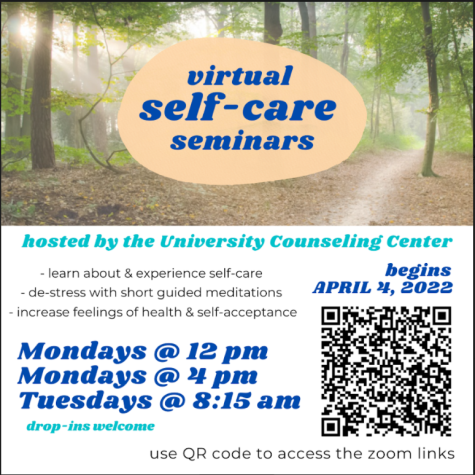 Catholic Student Association

The Catholic Student Association is an official student organization where students have an opportunity to
grow closer to Christ and be a part of a wonderful community! We host a variety of events throughout the
week. Our CSA Nights are every Wednesday night from 7-8 p.m. at the St. Albert Catholic Student Center
(right next to Cardinal Newman Hall!) Our support community also offers Free Lunch for students, faculty
and staff every Tuesday from 11:30 a.m. to 1 p.m. Follow us on Instagram (@slucatholics) and email
[email protected] if you wish to be added to our email list. God love you!
International Student Union
Calling all students looking to be a part of something bigger than just a club! Join the International Student
Union in promoting diversity and inclusion on campus as well as making lifelong friends. No matter where
you are from, we are here for you. We have monthly meetings where we discuss diverse topics and get to
know each other. In informal gatherings, we share meals, play games, and just spend time together. If you
are looking to be able to broaden your awareness of cultures and meet people from all types of
backgrounds, the ISU is the place for you!
Pi Sigma Epsilon Eta Tau

Our mission is to develop our members' sales and marketing skills through lifelong opportunities. Pi
Sigma Epsilon is the top-tier national, co-ed, professional, fraternal organization for Sales, Marketing, and
Management. We believe people sell/market themselves every day, so our organization is open to all
majors. Gain skills for the career of your dreams, join PSE!