Organizational News
Reconnect Farmers Market
Come to the last Reconnect Farmers Market of the semester this Wednesday, November 9th, 2022! A lot
of your favorite vendors will be there. Also, we will be decorating tote bags for $5 at the Reconnect table! @reconnect_selu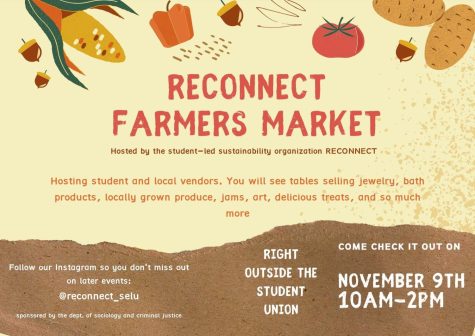 Women in Business
We are hosting a networking event for women on campus. It will be a thanksgiving pot-luck style setting,
in which attendees can connect with local professionals and mentors. The event will be on November
16th, and we are hoping to pack the house! If you're interested, tap the image below and please RSVP by November 10th. @southeasternwib
Southeastern Louisiana University Professional Sales Program
The Southeastern Louisiana University Sales Program is putting on its annual Golf Tournament on
November 18th at Carter Plantation. The Sales Program uses this tournament to raise money to compete
in local and national sales competitions. Along with the tournament, they organized a silent auction.
All proceeds raised from the auction are used to support the Southeastern Career Closet. If you know of a
local business that would be interested in sponsoring either of these fundraisers, please reach out to the
Sales Program. @slusalesprogram
Lion Up Recovery
We are hosting a Campuswide Narcan and Allies in Recovery Training on Monday, November 21st, 2022
in the Student Union Annex 2216 from 5-6 pm. Please join us to learn about the life-saving overdose
reversal drug Narcan and how to decrease barriers for those seeking recovery
from eating disorders and/or substance misuse. Training is hosted by Tyla Legette, Lion Up Recovery,
Intern.
Sigma Tau Gamma
October 26th, from 5:00-7:30 p.m., we will be having a philanthropy event called Carvin' for Special Olympics!
This event calls for teams of 3 to compete in a bunch of different Halloween and Fall themed games! The
entry fee is $20 a team! Check our post for more details! Click the image below to register. @slu.sigtau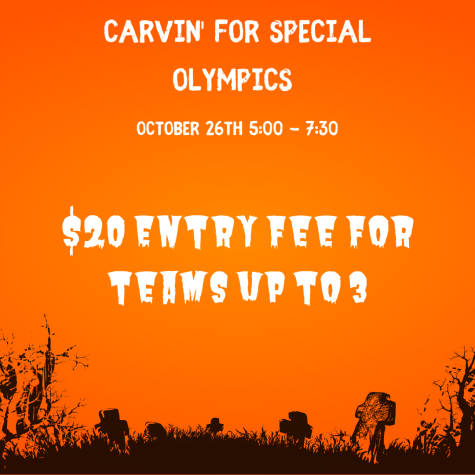 Reconnect Farmers Market
The Reconnect Farmers Market is coming back this Wednesday, October 19, from 10 a.m. to 2 p.m. The
market will feature all of the old vendors and an exciting list of new vendors selling paella, Thai food,
juices, shakes, and so much more! Also, make sure to visit the Reconnect table to decorate your own tote
bag for $5! There is another market on November 9th! @reconnect_selu
The Sociology and Criminal Justice Department and the Lavender Lions
On October 19th, from 7:00 p.m. to 9:00 p.m. The Department of Sociology and Criminal Justice and the Lavender Lions will present a drag show to
raise awareness about sexual health and the challenges that lesbian, gay, bisexual, transgender, and
intersex (LGBTQI+) people face in accessing health care. Admission is free. @southeasternscj @lavenderlions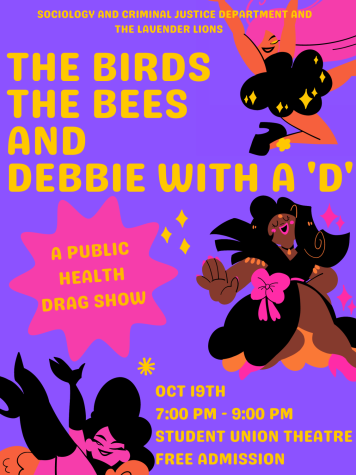 Project P.U.L.L

Can you sing, dance, write poetry, or rap? Project P.U.L.L. is hosting auditions on October 5th &12th at
5 p.m. in Fayard Hall rm 109 for their annual event Culture Shock! Culture Shock is a talent showcasing
Southeastern students' talents will be held on November 2nd in the Student Union Ballroom. @sluprojectpull
Building a Winning Resume & LinkedIn Profile
Join Founder and Managing Partner of SCM Talent Group, Rodney Apple, as he shows you how to build the
most eye-catching supply chain resume and LinkedIn profile.
In this webinar, Rodney will be reviewing his own resume and pointing out key elements that recruiters and
supply chain employers emphasize in their talent searches.
Rodney will also be reviewing specific aspects of his LinkedIn profile and what exactly has helped him build
a LinkedIn following of 14,000 professionals.
Creative job search strategies will also be covered throughout the duration of the webinar.
Register by clicking the image below and join us! We look forward to helping you maximize the earning potential in your Resumes, LinkedIn Profiles, and Job Search Strategies!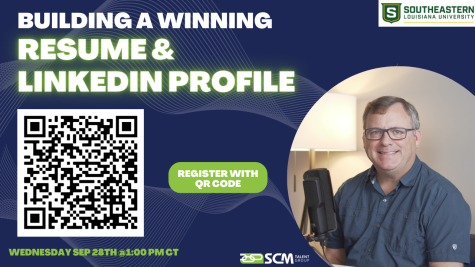 Tau Alpha Pi Honors Engineering Society
The Tau Alpha Pi Honors Engineering Society is getting back on its feet and welcomes new engineers with
a GPA of 3.0 or higher to take part in uniting engineering technologists of all focuses under one banner to
help each other make connections and improve each other as a whole. Our first open meeting is
on Oct. 5th at 11:00 AM in the CSTB open lobby. @taualphapi.org
Phi Mu Alpha Sinfonia
Do you have a love for music & the arts? Do you want to be part of a lifelong bond of brotherhood? Come
join Phi Mu Alpha Sinfonia recruitment week! Learn about who we are and share a love for music! @slusinfoniadeltaomega
Roomie's Merry Market
Southeastern's Lion Up Recovery program invites vendors to participate in a Christmas market
fundraiser. Roomie's Merry Market will take place in the Pennington Center on Nov. 12 from 9 a.m.-5 p.m.
Those interested in vending at Roomie's Merry Market should visit southeastern.edu/recovery to fill out an
application by Sept. 30. For shoppers, mark the calendar for Nov. 12. @roomies.merrymarketslu
E.L.I.T.E. Women

E.L.I.T.E. Annual Career Style Show – Sept. 21 at 7 p.m. in the Student Union Ballroom. The purpose of this event is to display the appropriate attire for an
occasion, from an interview to a social event down to class wear. Admission is $3. @elitewomenslu
Phi Kappa Phi
Phi Kappa Phi Honor Society is hosting the 21st Annual Homecoming Intramural Quiz Bowl Tournament
on Tuesday, Oct. 4, from 3:30-6 p.m. in Student Union Room 2207. Teams of four compete together in a
double-elimination tournament culminating in the top student vs. top faculty team for the Quiz Bowl
Championship. The first-place student team wins $100.
For an application form, email [email protected]. Only the first four student and faculty teams will
be accepted, and forms are due by Sept. 26.
Sigma Tau Gamma
The Brothers of Sigma Tau Gamma would like to invite all interested in rushing to our house
Tuesdays at 7:30 p.m. for our weekly Game Night at the Sig Tau House! DM us on our
page or contact an active member for more information! @slu.sigtau
InterVarsity Christian Fellowship
InterVarsity Christian Fellowship is a nondenominational student organization. We aim to create a space
where students can learn about Jesus Christ, how to study the Bible, and grow in a Christian community
together. We are hosting a Wednesday welcome session filled with worship, icebreakers,
and testimonies! We welcome everyone to come out and fellowship with us! @iv.selu
Theta Phi Alpha
On Thursday, Aug. 25, Theta Phi Alpha held their annual "Pie a President" fundraiser for St. Jude. Sorority and fraternity presidents volunteered to get pied if their chapters raised over $200. @thetaphi_slu
Lion UP Recovery
We have a new support group we are offering out of the LION UP Recovery Program All Bodies are
Good Bodies. This support group will be held every Wednesday at 11 a.m. in the Student Union Annex
(above Starbucks), Room 2409. We hope to offer a compassionate space to learn coping mechanisms
that lead to healthy thoughts and behaviors toward healthy body image and eating habits. @lionruprecovery