Organizational News
Student Organization News
Student organization leaders, share your events and news with the campus community. Click here to complete The Lion's Roar Organizational News Form.'
Org News will be posted on www.lionsroarnews.com and @lionsroarnews social media.
*Please submit the completed form before the event date listed in the org news form submitted.
Spanish Club / World Languages and Cultures
The Spanish Club is looking for new members. Upcoming activities include Hispanic Heritage
Presentation at Ponchatoula Public Library, visit to Sculpture Gardens by Mexican artist in New Orleans,
participation in the Homecoming Parade, participation conference at The University of Texas RGV,
organizing Day of the Dead Display at the library, and future visits to Puerto Rico (spring semester) and
participating in the study abroad program in Spain (summer 2024). Lots of other fundraising activities,
picnics, sports and get-togethers are planned. Email: [email protected] @spanishclub_selu
Supply Chain Management Club Board 2023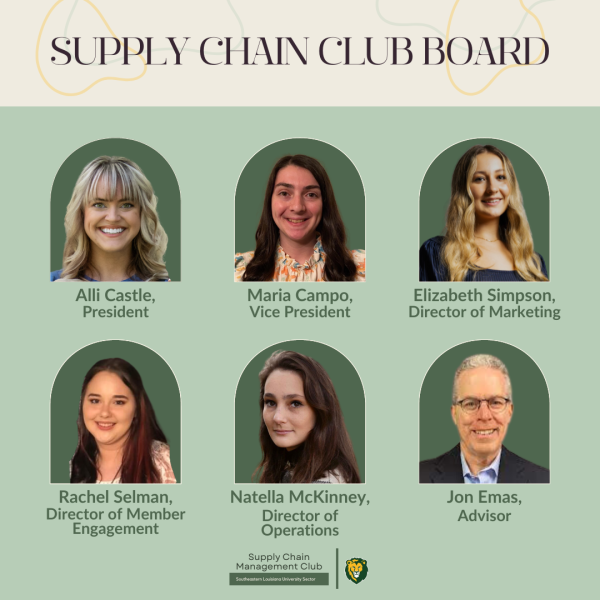 Student-led Louisiana Early Childhood Association (SLAECA), Dept. of Teaching & Learning
Student-led Louisiana Early Childhood Association (SLAECA), Dept. of Teaching & Learning
Members of the Student-led Louisiana Early Childhood Association (SLAECA) chapter (Teaching &
Learning Department) donated and delivered children's books to SLU Head Start and helped maintain the
Little Library is located there as part of its service to the early childhood community. SLAECA members
pictured delivering the books are Olivia Laizer, Erin Michel, Elizabeth Angel, and Jayden Paige.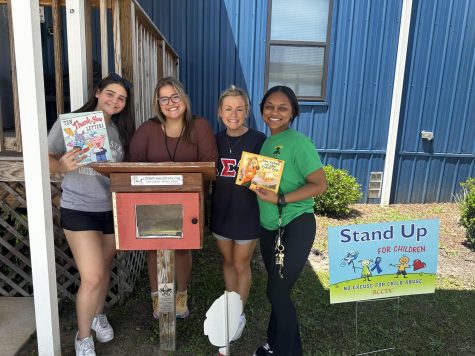 Supply Chain Management Club (formally ISM Club)
The Supply Chain has awarded Elizabeth Simpson the Distinguished Member award
Management Club for her exceptional contributions. President Alli Castle & Advisor Jon Emus expressed
their gratitude for Simpson's dedication & hard work, which they said had significantly impacted
the club's success. Simpson, the Marketing Director, played a vital role in advancing SCM's goals by
organizing events, volunteering for projects, & providing mentorship to new members. The Distinguished Member
Award is the highest honor given to a Supply Chain Management Club member.
LION UP Recovery — When They Drink Too Much support group
When They Drink Too Much… is a support group designed to provide concerned significant others the
tools to effectively support their loved one without keeping the addictive behavior. The
support group is open to anyone with a friend or family member struggling with substance misuse
and those who may have been impacted by overdose or substance use of another at any time.
Tuesdays @ 1 pm – Room 2409 – (2nd floor of the Student Union Annex – above Starbucks) – (Lion UP
Recovery) @lionuprecovery
LION UP Recovery — Body Positivity support group
We are offering a Body Positivity Support group – Research shows that body dissatisfaction is a leading
risk of developing an eating disorder. This is a compassionate space to process thoughts,
feelings and behaviors that lead to healthy habits and body image.
Thursday at 11 am
(Room 2409 – 2nd Floor of the Student Union Annex – Above Starbucks) – LION UP Recovery Suite)
@lionuprecovery