Organizational News
Student Organization News
Student organization leaders, share your events and news with the campus community. Click here to complete The Lion's Roar Organizational News Form.'
Org News will be posted on www.lionsroarnews.com as well as on @lionsroarnews social media.
*Please submit the completed form before the event date listed in the org news form submitted.
LION UP Recovery — When They Drink Too Much support group
When They Drink Too Much… is a support group designed to provide concerned significant others the
tools to effectively support their loved one without supporting the addictive behavior. The
support group is open to anyone with a friend or family member struggling with substance misuse
and those who may have been impacted by overdose or substance use of another at any time.
Tuesdays @ 1 pm – Room 2409 – (2nd floor of the Student Union Annex – above Starbucks) – (Lion UP
Recovery) @lionuprecovery
LION UP Recovery — Body Positivity support group
We are offering a Body Positivity Support group – Research shows that body dissatisfaction is a leading
risk of developing an eating disorder. This is a compassionate space to process thoughts,
feelings and behaviors that lead to healthy habits and body image.
Thursday at 11 am
(Room 2409 – 2nd Floor of the Student Union Annex – Above Starbucks) – LION UP Recovery Suite)
@lionuprecovery
Honors Student Association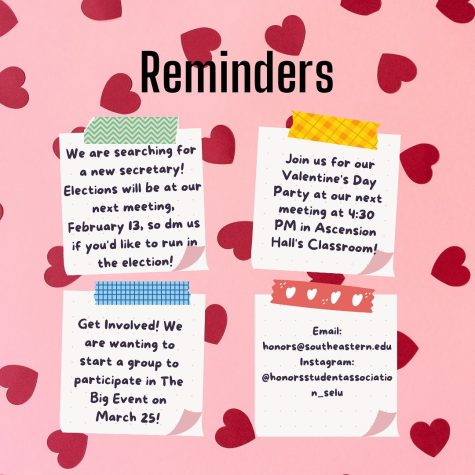 @honorsstudentassociation_selu
Women in Business
Join Women in Business for our first meeting and social event of the semester! It will be held at Gnarly
Barley on February 9th @ 5:30! This is open to all Southeastern students and staff. Mocktails and various
refreshments will be provided. @southeasternwib
Turtle Cove
Turtle Cove is continuing its collection of Christmas trees for the Marsh Restoration Program through Mardi Gras.
Trees can be dropped off from 7 am to 3 pm at the Hammond Maintenance facility at 18104 Hwy. 190 next to Piggly Wiggly Supermarket.
Trees should be dropped off using the gate on Falcon Drive next to Piggly Wiggly.
Environmental Awareness (GBIO 281) students are taking a trip to Turtle Cove Restoration Center
in March to help utilize these Christmas trees to restore Louisiana's depleting coastal
wetlands.
Office of Sponsored Research and Programs
Southeastern Students' Research, Creative, and Scholarly Activities Showcase
Tuesday, March 7, 2023, 9:00 am to 1:00 pm; Student Union Ballroom
Southeastern Louisiana University's Office of Sponsored Research and Programs invites
undergraduate and graduate students to participate in this showcase of student research, creative,
and scholarly activity.
This non-competitive event will display conference posters, publications, and other visual
presentations. All disciplines are welcome!!!
The application deadline is Friday, February 24.
For complete information and to register your presentation, please visit
http://www.selu.edu/admin/osrp/index.html