Greek Week kicks off on campus
Student organizations play an important part of campus life with Greek life being a prominent part of it.
Greek Week 2018 kicked off on Sunday, March 18 as students from different fraternities and sororities gathered at the Pennington Student Activity Center to participate in a volleyball tournament.
The tournament where fraternities and sororities competed in started at 3:30 p.m. and was followed by a hot dog eating competition. The winner for the tournament was the grouping of Sigma Sigma Sigma, Zeta Phi Beta and Kappa Sigma.
The event was put on by the Order of Omega, an organization which "strives to recognize those students who have attained a high standard of leadership in Greek and college activities." Greek Week will end on Friday, March 23.
Vice President for the Order of Omega and member of Phi Mu Taylor Mangus explained that Greek Week is organized every year on campus to "promote unity within Greek community."
According to Mangus, their biggest celebration during the week is "Stepshow." She shared how believes that Greek Week offers a way for all members of Greek communities to come together and make bonds.
"It's just a fun week because I think a lot of people who are in there in the organization, they kind of forget that there are so many other organizations," said Mangus. "So, this is a way for us to all come together. We get to have big events where we all can bond, and there is not so much of a distinction. It's a little bit of a friendly competition, but we all come together as one."
The university will continue to celebrate Greek Week throughout this week with the theme of "Greek Gods" and host events like a dodgeball tournament, the "Greek Picture" and the "Greek Games."
Six students signed up for the hot dog eating competition to eat as many hot dogs as they could in a five-minute time frame. The winner was freshman business administration major Brenden Holliday. Order of Omega put on the challenge for eating hot dogs after having pie and cupcakes eating competitions before.
Mangus thinks Greek life is an important part of campus life and contributes to involvement on campus.
"I think that Greek life is a big part of the university, and even though there are only a small percentage of students that participate in Greek life, we are the SGA senators," said Mangus. "I have worked for housing. I worked for the baseball team. A big part of the campus involvement comes from the Greek life. We do a lot of good things. We fundraise a lot, and we come together when the community needs us."
Mangus shared how she believes Greek Week gives students from fraternities and sororities an opportunity to come together.
"It builds camaraderie when you have events like this," said Mangus. "We get to meet people, network and mingle. I think you need that."
About the Writer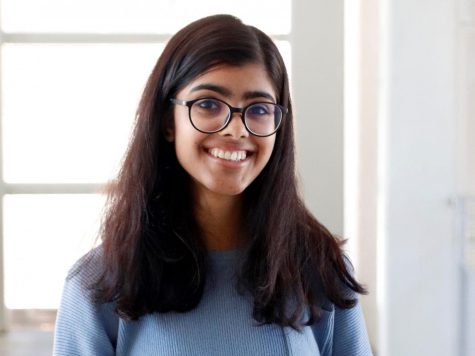 Prakriti Adhikari, Assistant Editor
Prakriti Adhikari is an accounting major and an international student from Kathmandu, Nepal. Adhikari has been working with The Lion's Roar since Fall...