Behind the scenes of hosting campus events
Hang on for a minute...we're trying to find some more stories you might like.
Student organizations are the integral part of the university campus life and have been holding various events throughout the years. With more than 125 student organizations, different events are hosted to help the overall development of students and improve their social life.
Assistant Vice President for Student Affairs Jim McHodgkins explained the steps student organizations should follow before hosting events.
"Basically, what they need to do is figure out where they want to host the event, like in the Student Union or in a building," said McHodgkins. "The first thing we tell them to do is check with the building head first. If I wanna use something in the Student Union, I need to check that with the union to see if that is available."
After confirming the availability of the space where they want to hold the campus event, student organizations should fill up the form online including information about the student organization, activity to be conducted, date and time for the event and the number of people participating in the event among others.
McHodgkins talked about the criteria that need to be fulfilled for different situations.
"We ask a lot of questions so that we can figure out how we can help students, and how we can get things going on," said McHodgkins. "If there's alcohol, there are certain rules we have to follow. If there's food, there are certain rules we have to follow depending on where you are."
The student requests are then sent to the building head, faculty advisor and different departments like the Office for Student Engagement and to the Vice President if required. Most of all events are given protection by the University Police Department.
"If everyone approves it, then the student will get an email back saying that your event is approved and here are the steps you have to take," said McHodgkins. "It's really kind of like a system where if you wanna reserve it, you check to make sure if it is available, get approvals from everyone, and after getting the last approval from my office, we send an email saying it is approved. Now, somewhere along the line, like the advisor says no, or the student engagement says no, or the building says they are not available then they get an email quickly that says it is not available."
For events where services are provided by the UPD, Dining Services or Physical Plant, service requests should be made two weeks prior to the event. For electrical needs, generators, tables, chairs, trash bins or trash bags, Physical Plant Services should be contacted.
McHodgkins insisted that students check the availability before submitting the form online.
For events involving alcohol, all event managers assigned by the organization must sign an Alcohol Event form in the Office of Assistant Vice President for Student Affairs.
Cancellations of the event must be done no later than 48 hours in advance of the event. As the registration form puts it, failure to notify all concerned parties may result in loss of scheduling privileges and liability for charges for service or personnel.
The form for registering an event is available at https://www2.southeastern.edu/external/reg_activities/app/event and must be submitted at least seven days prior to the event to the Office of Student Development.
All off-campus groups and individuals are required to contact Event and Conferences Services at (985) 549-2094 to use university facilities.
About the Writer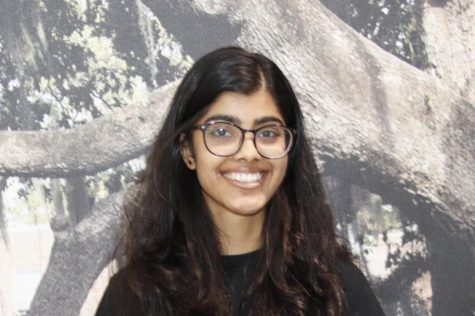 Prakriti Adhikari, Staff Reporter
Prakriti Adhikari is an accounting major and an international student from Kathmandu, Nepal. Adhikari has been working as a reporter for The Lion's Roar...