Risher receives national recognition
The Council of Supply Chain Management Professionals recognized Assistant Professor of Marketing and Supply Chain Management Dr. Jeffrey Risher for his doctoral dissertation research with the Doctoral Dissertation Award.
Risher was presented the award during the 2017 Academic Research Symposium in the annual conference held in Atlanta, Georgia on Sept. 24.
The CSCMP is a leading international association dedicated to education and research of supply chain management and presents the Doctoral Dissertation Award annually to doctoral students demonstrating significant originality and technical competence in supply chain functions. The program is open to those who have completed their doctoral work in a field related to functions within the supply chain.
Risher expressed his happiness on receiving the award.
"It really feels great," said Risher. "I just cannot explain it. You look at many past winners and where they come from. To have your name up there with these Harvard, MIT graduates, is great."
Risher graduated in marketing with a supply chain concentration from Mississippi State University and received his master's degree in business administration from Southeastern Louisiana University and doctorate in marketing from Kennesaw State University.
Risher's study "From Offshoring to Reshoring: A Conceptual Framework for Manufacturing Location Decisions in a Slow-Stream World" explores the outcomes of large manufacturing companies reintroducing manufacturing in industrialized nations and was a part of the doctoral study from Kennesaw. He explained the research he conducted.
"The topic was reshoring, which is a term used to explain companies that move manufacturing products to offshore locations like China and India and are now revising the decision to bringing manufacturing back to the U.S. or other industrializing nations like Germany, France, England or Japan," said Risher.
Risher explained about the submissions for the award by students who completed their doctoral research within the frame of 18 months.
"There were about 30 submissions, which is a lot, and the other finalist was from Michigan State University, and we both presented," said Risher.
Risher explained how the finalists presented their respective study and went through two rounds of judgement by a panel of judges of senior academics of major universities. He explained why he chose the topic for his research.
"There was the topic of supply chain management," said Risher. "I guessed it just called to me. I really liked it. The research is a good way to know about the impact we have on why we do business here. Research was needed in the topic I was familiar with."
Risher explained the purpose of his research.
"The biggest find was that it showed that many companies can be more profitable manufacturing in high cost countries like the U.S., and it went on to indicate the conditions and the types of companies that would be successful moving manufacturing from offshore locations back to the U.S.," said Risher
About the Writer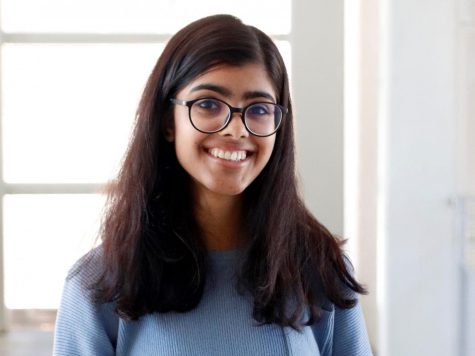 Prakriti Adhikari, Editor-in-Chief
Prakriti Adhikari is an accounting major and an international student from Kathmandu, Nepal. Adhikari has been working with The Lion's Roar since Fall...