Riley obtains broadcasting experience from renowned alumna
An application for an internship in New York City became a reality for Raychelle Riley, a junior communications major.
Riley spent her summer learning about television broadcasting through Robin Roberts, a university alumna and anchor for "Good Morning America." Through this process, she not only learned the behind-the-scenes details about how the show operates, but Riley also got to meet celebrities such as Zion Williamson, a forward for the New Orleans Pelicans, and Dwayne "The Rock" Johnson, an actor and producer.
Riley explained that the department of communication and media studies publicized the opportunity for the position.
"There was an application and interview process via phone," stated Riley. "The requirements included that the applicant needed to be a communication, journalism or related major and also hold classification as a junior, senior or a recent graduate."
Beginning her position as Roberts' personal intern in early June, Riley shared that she went to the "Good Morning America" studio in Times Square each morning. While there, she had the opportunity to learn several facets of the show's production.
"My duties ranged from shadowing Robin, accompanying her for shoots, meeting with 'Team Robin,' conducting research, and learning new skills from various departments," explained Riley. "From there, I would leave and catch a bite to eat and prepare for the exciting challenges the next day would bring."
One of the most intriguing aspects of the conventional production cycle to Riley was the effectiveness with which.
"I was amazed at how the team not only acted like a family, but everything literally moved like clockwork to the very second," said Riley. "I realized just how much each and every job within the studio is equally as important because without the smooth transition of each part, the show would not be successful in its execution. In turn, it would not enjoy the same success, being ranked the #1 morning news show."
Riley shared that she greatly appreciated the chance to meet Johnson during her time in New York City
"He was very personable and down-to-earth," stated Riley. "It took me off-guard the way he came in and spoke to everyone in the room. He was very friendly in his interactions with not only myself but the entire staff – to me, that's true celebrity status."
Before meeting Williamson, Riley had the chance to create questions to be to asked during his interview.
"It was exciting to meet him, and I also met several members of his family," explained Riley.
Throughout her time, Riley enjoyed getting to know Roberts' personality.
"Meeting Robin was not only exciting, but it was refreshing to learn that she is the same in person as she is on air," said Riley. "She is very caring and compassionate and has a real drive to make it her personal mission to reach out and help others."
This experience has strengthened Riley's dedication towards her degree and career path.
"I hope to continue on to become a reporter and anchor after I finish my educational pursuits," shared Riley.
About the Contributor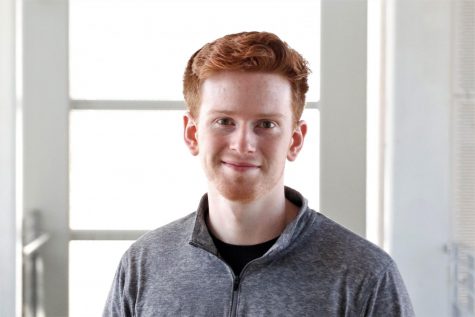 Jacob Summerville, Editor-in-Chief
Jacob Summerville, a history and political science major, has worked at The Lion's Roar since September 2017. A native of Greenwell Springs, LA, Jacob...