The game through the eyes of a cheerleader
As football games in Strawberry Stadium are filled with crowds of lions fans, the university cheerleading team helps sets the tone and atmosphere for the game.
The cheerleaders can be seen doing stunts, tumbling and cheering on the crowd and rooting for the football team throughout the game. However, some may not understand the time and preparation that goes on before each game.
To the cheerleaders, cheering is much more than a sport.
Isabella Payne, a junior psychology major, expressed her passion for the sport and how her experience has been this far.
"Being a cheerleader here at Southeastern means so much to me," expressed Payne. "I honestly don't know where I'd be without the people and experiences this program has brought to my life. I'm a firm believer in being involved in activities as a way to meet people and form relationships. I also love Southeastern, and I've always enjoyed watching sports. So, to be able to cheer along side the Lions is great."
As a cheerleader, Payne is also excited about the upcoming games for student-athletes.
"The thing I'm most looking forward to is having fun on the sidelines and for our guys to be successful this season," expressed Payne. "So far, we have exceeded in both of those. Specifically, I will always like the last game against Nicholls. It's always such a great time."
Breanna Clark, a junior health systems management major, is looking forward to next year's nationals.
"Nationals is where we practice pretty much every day of winter break, sometimes even twice for this competition against other cheerleading teams," said Clark. "It is a lot of hard work and commitment, but it pays off in the end. We compete in Orlando, Florida in Disney at the beginning of January. My favorite part of the whole process is watching our team grow, it's truly amazing to see."
Clark discussed what fans can expect throughout the year from the cheerleading squad.
"Southeastern fans can expect a great time when it comes to watching the cheerleaders this season," stated Clark. "Whether it's at a promotion, pregame or on the sidelines, we make sure we are having fun We have a very talented team this year that brings so much energy and new skills to get the crowd pumped up."
Payne also agreed that energy is a key component to a successful game night.
"We try our best to lead the crowd with as much energy as possible to help out the team," said Payne. "Each year we try to think of ways we can get the crowd involved. Some ways are the different sayings we do during the game. So, fans can expect a lot of material that they can help us out with as well as a lot of fun, new skills for them to participate in."
Supportive fans can produce a positive impact on the cheerleading team.
"We appreciate all of the fans that come and support," said Clark. "It's crazy how much of a difference y'all make. The atmosphere in Strawberry Stadium is absolutely amazing this year. I get chills whenever we run with the football team out or hearing the fans yell after we score a touchdown. Keep it up, it's going to be a great year."
To keep up with the Southeastern Cheerleading team, follow their schedule of events on the university's website.
"Come out and support and as always, Lion Up," said Payne.
Leave a Comment
Donate to The Lion's Roar
Your donation will support the student journalists of The Lion's Roar at Southeastern Louisiana University. Your contribution will allow us to cover our annual website hosting costs. No contribution is too small.
About the Contributor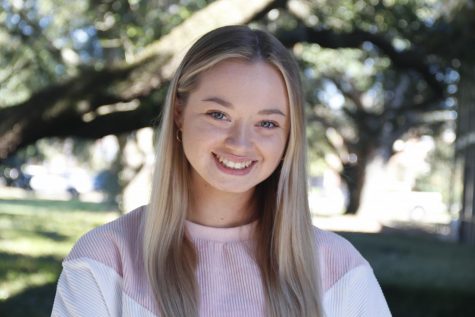 Gabrielle Wood, Staff Reporter
Gabby Wood is a communication major with a focus in public relations. Outside the office, you can find her trying new coffee shops and endlessly scrolling...