Charliee Dugas prepares for her final season as a Lady Lion
Charliee Dugas, a guard for the university's women's basketball team, is now entering her fourth season with the team.
After playing multiple sports growing up, Dugas reflected on how her family helped her gravitate toward playing basketball.
"I was young, and my mama just kinda put me in all kinds of sports, and basketball just kinda caught my attention," said Dugas. "I have a family that has played sports, played college basketball, high school, and it just kinda runs in the family. So, it was kinda like 'Oh, let me see if I like this too.' And I started doing it and I liked it. My uncles, they all played, and I would go to their games and watch them."
Dugas elaborated on how her dedication to the sport has helped her grow over her three seasons.
"It's taught me a lot of discipline in life," stated Dugas. "You gotta understand that it's okay to listen to what other people gotta say. It made me have an open mind to other people's opinions and see where everybody's coming from. It has helped me with teamwork and leadership. It's helped me come out of my shell this year because I'm really a quiet person. So, I've been talking more, being involved more."
Ayla Guzzardo, head coach of women's basketball, shared that Dugas' growth throughout her time at the university could be seen in her performance and personality.
"Charliee's skill has transformed greatly, more than anyone on this team," mentioned Guzzardo. "When she got here, she couldn't do half the stuff she's doing now. She couldn't dribble with her left hand, something so simple, but she's worked hard all season. She's become more of a leader. When Charliee got here, Charliee just kind of fit in with the crowd. She's taken a leadership role, and she's doing it with some pride. Her endurance has changed."
Guzzardo commented on Dugas' identity on the court.
"She's fun to watch," commented Guzzardo. "She's dynamic, she's got energy, she's a scorer, she's a defender, she's an all-around good player, and she's fun to coach. She's one of those kids that you're going to miss when she leaves after four years. She's a good kid."
Morgan Carrier, a junior forward, agreed with Guzzardo on Dugas' presence on the court and described what she learned from her over the last three years.
"Charliee brings energy, positivity," said Carrier. "When she's down, she tries to get people up. She's not a selfish player. I learned how to always be positive towards others and how to keep my head up when I'm down. When she's down, she always tries to pick me up. As a teammate, she's real cool to play with. It's good to feed off her energy."
Dugas discussed how Stephen Curry, a guard for the Golden State Warriors, inspired her to improve her skills on the court.
"I like Steph Curry," shared Dugas."I mean, I just like his consistency. When shooting, I just feel like he's consistent. In basketball, that's a good trait to have, being consistent all the time."
Dugas explained what her post graduation plans are.
"I'm going to play professional basketball overseas for about one or two years and come back and get my masters in social work at the University of Houston," said Dugas.
The women's basketball team's next game will be on the road against Southern Mississippi University at 6 p.m. on Nov. 13.
Leave a Comment
Donate to The Lion's Roar
Your donation will support The Lion's Roar student journalists at Southeastern Louisiana University.
In addition, your contribution will allow us to cover our annual website hosting costs.
No gift is too small.
About the Contributor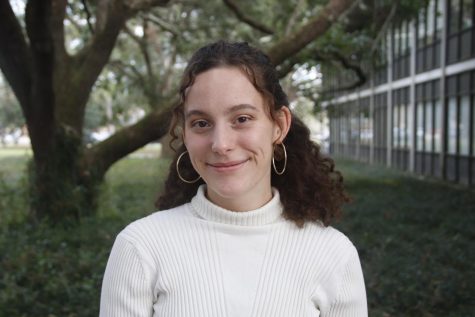 Elana Guillory, Yearbook Editor
Elana Guillory is an art major and lives in Ponchatoula. She worked as a reporter for The Lion's Roar from the fall of 2019 until April 2021, and now she...