Nursing students organize "Stop The Bleed"
A group of senior nursing students at the university organized a program "Stop the Bleed," intending to teach the participants to give bystander response in case of emergency cases of bleeding control.
The program was held on Wednesday, Nov. 8 in the Kinesiology and Health Studies Building at 3 p.m. where about 40 people participated.
The college of nursing and health sciences collaborated with the North Oaks Health System Trauma Program, the Louisiana Council of Emergency Nurses Association and the Rho Zeta Chapter of the national nursing honor society Sigma Theta Tau International to put on the program. Nursing Instructor Melissa Wafer was the faculty mentor for the project, which the nursing students did as a part of their course.
Supported by the Department of Homeland Security, "Stop the Bleed" is a national awareness campaign to train and empower individuals to react during emergencies.
In the seminar where faculty members of various departments and students participated, the participants were given practical knowledge to stop cases of bleeding during emergencies like mass shootings. The program began with senior nursing major Corey Darvill passing basic information like calling 911 or asking someone to call the number, and getting a bleeding control kit if available. He then went on to explain how one needs to look and identify life-threatening bleeding, and use proper techniques to save lives. Participants were taught to apply direct pressure, proper tourniquet and proper dressing use with the help of equipment.
Senior nursing major Monique Tranchina was happy with the number of participants who attended the program. She believes that these participants can now apply some basic techniques during emergencies.
"The whole point of the demonstration was that we can actually watch them while they are doing it, correct them if they were doing it something incorrectly without the right protocol and tell them they were doing a good job if they did it correctly," said Tranchina.
Lieutenant of the University Police Department Patrick Gipson gave his thoughts on the seminar.
"This was outstanding," said Gipson. "It will be helpful in any cases where someone might be bleeding."
He also said that the police department should be called immediately if any cases occur on campus.
"Our officers go through training annually," said Gipson. "We have a lot of equipment. We have equipment that was used here today. If any incident happens on campus where someone has to get medical attention, call the police department immediately."
Nursing major Jennifer Aldana who participated in the program thought it was helpful.
"They went over the basics," said Aldana. "They taught us what we needed to know."
Assistant Professor of Nursing and member of Rho Zeta Luanne Billingsley thought the program was effective.
"The topic was very timely, and the students and the instructor did a fabulous job," said Billingsley. "Right now it's focused on mass shooting, but it could certainly be helpful for trauma or automobile accident. With the mass shooting we've seen, that people that were there, that were able to do tourniquet-ing did save lives. People that have been instructed in projects like this have saved lives."
Billingsley stated that fact that 95 percent of people that died of a gunshot wound was because of bleeding.
Additional information regarding bleeding control techniques can be found on the website www.bleedingcontrol.org, and university students are encouraged to be aware of such life-saving methods.
About the Writer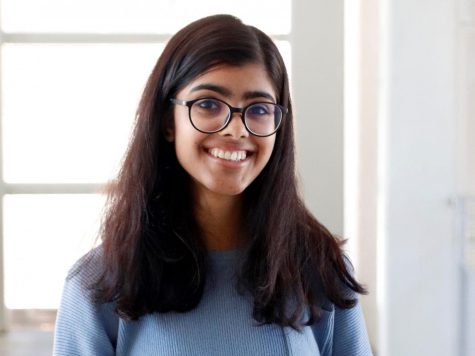 Prakriti Adhikari, Assistant Editor
Prakriti Adhikari is an accounting major and an international student from Kathmandu, Nepal. Adhikari has been working with The Lion's Roar since Fall...