Fundraiser held to benefit students
The Hammond community, restaurants and alumni gathered to celebrate cuisine and the "taste of the Northshore."
The Southeastern Foundation organized the 34th annual "Chefs Evening" on Sunday, March 4 in the Student Union Grand Ballroom from 5:30-8 p.m. and included restaurants, vendors and live and silent auctions.
Donor Relations Coordinator for University Advancement and Coordinator for "Chefs Evening" Lisa Patti explained that the purpose of organizing "Chefs Evening" annually is to raise funds for the university.
"'Chefs Evening' is our largest fundraising event that we have, and it supports scholarships and academic programs," said Patti. "It consists of restaurants who donate their time. We have 25 this year who donated their time to come by."
Before the event, the organizing committee also held the "President's Toast" hosted by President Dr. John L. Crain at the President's Residence.
Patti mentioned some of the restaurants and vendors who participated in the event.
"Some of our beverages and vendors are from the Northshore like Champagne Beverage, Jim Carey," said Patti. "We also have Gallagher's from Northshore that is participating with us, and then we have Hammond restaurants."
The event featured a live auction and a silent auction. The three items for the silent auction were a wine dinner for eight at the Pond House at Ten Oak Farm, two tickets for an Elton John concert at the Smoothie King Center in New Orleans and a three-night stay for four guests in Napa, California countryside.
Junior music major Sara Cage performed "Gloria" by Antonio Vivaldi and "Summertime" by George Gershwin from Porgy and Bess. She was excited to be a part of the program.
"I am definitely enjoying it," said Cage. "There seems to be so many people coming together trying different food from different vendors. It's really amazing, and being able to perform for everyone is definitely an honor."
Accountant Manager for Jim Carey Distributing Co. Nathan Ballard had his first experience participating in the event.
"I am enjoying it," said Ballard. "There seems to be a whole lot of friendly people here and good food. And they are here for a good cause, and I'm enjoying it. Everybody seems to be friendly here and enjoying the alcohol."
Junior management major Alee Hess represented PJ's Coffee on 224 West Thomas Street and had participated in "Chefs Evening" last year as well.
"I think it's really important that we are able to show our support for Southeastern," said Hess. "Miss Donna Miller is our owner, and she sends her children to Southeastern. So, between that and as a student seeing all these people who are giving back to our university, it's awesome to come here and volunteer and serve them while also serving for someone who helps our university."
Miss Southeastern 2018 Alyssa Larose modeled a necklace from Mastoloni Pearls donated by George Ibert Jewelry and Gifts, which was raffled during the event. She enjoyed the evening.
"I am having a great time tonight," said Larose. "I love walking around and seeing all the alumni and people from the community here donating and having a great time to benefit the Southeastern Foundation."
About the Writer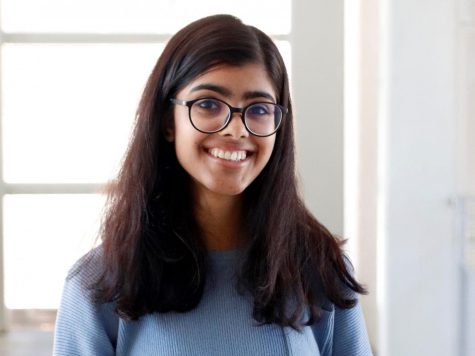 Prakriti Adhikari, Assistant Editor
Prakriti Adhikari is an accounting major and an international student from Kathmandu, Nepal. Adhikari has been working with The Lion's Roar since Fall...