Artistic performances brings Black History Month to a close
The department of music and performing arts celebrated the history of African-American culture through music, dances and spoken word performances.
"Freedom's Journey: An African Heritage Program" was held on Feb. 28 at 7:30 p.m. in the Pottle Auditorium. The event was created by a new music organization called Black People of Pottle.
Freshman music education major and performer Christina Duffaut explained the purpose of this new organization.
"It's just an organization that brings awareness to African-Americans in the arts," said Duffaut. "It's an organization used to highlight them and to bring more African-Americans into Pottle and the music program."
The production began with the song "Awesome God" sang by the university's gospel choir. Other performances included a dance by Ashley Barbarin to the song "I Want Jesus to Walk With Me," "A Change is Gonna Come" sung by Nakiya Anthony, "Respect My Melanin" spoken by Amber Galloway, and "I Know I've Been Changed" sung by the B.P.O.P Choir.
Duffaut discussed the preparation process for this performance.
"Since school has started, we have been in intensive rehearsal in choir for this event," said Duffaut. "Then outside of school for the smaller event for the B.P.O.P. recital we've been practicing. What's really cool about it is that for the most part, it was completely student driven. I think it was really easy to get everyone to come together when we really sat down and learned what this was all about, and that was really cool."
The production concluded with the song "The Color Purple" sung by Sara Cage and Ariel George, accompanied by the university's Women's Chorale.
Senior industrial technology major and attendee Rashaan Albert shared why he came to watch the performance.
"Personally, I came out here to watch it and support a lot of my friends and everything, support the organization," said Albert. "A lot of it was really to support black culture and everything like that. Being African-American month and everything, you just want to be able to support your family, your people so that you can be able to stand out and support. With everything going on, we want to support each other with the good things that we do around here."
Albert also talked about what performances were the highlight of the night.
"One of my favorite performances was by Nakiya," said Albert. "She was the one standing out there in the white shirt and the multi-colored pants. She sounded beautifully in a lot of sense. It was really touching. Another one was my friend Sara Cage. She sang a song with another girl at the bottom, and they both were very beautiful at singing. They were very powerful and meaningful when they were singing."
Duffaut shared how this performance concluded Black History Month.
"I think this really all tied it together," said Duffaut. "I am kind of speechless about this whole program because I haven't seen some of these things until today. So, I thought it was really cool and representative of everything that Black History Month is about."
About the Writer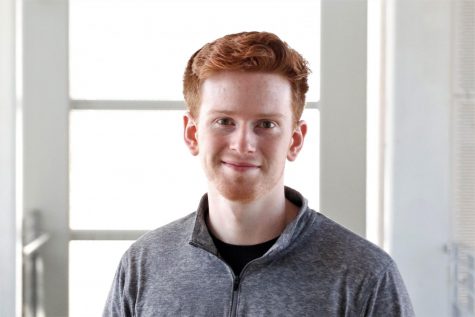 Jacob Summerville, Editor-in-Chief
Jacob Summerville, a history and political science major, has worked at The Lion's Roar since September 2017. A native of Greenwell Springs, LA, Jacob...