Art students show off their work
Art majors submitted their artworks for the Visual Art + Design Student Exhibition to showcase their work and try to win awards. The awards were given to students whose submissions were the best in their category, or for one student, the best work in the show.
The premiere for the Department of Visual Art + Design Student Exhibition was held in the Contemporary Art Gallery on March 1 from 5 – 7:30 p.m. The gallery will stay open to the public through March 29.
Gallery Director and Professor of Sculpture Dale Newkirk explained how the artwork is selected for display.
"There were two outside jurors for graphic design and one juror for fine arts," said Newkirk. "Erik Kiesewetter and Karen Dufour were the graphic design jurors. John Barnes Jr. was the fine art juror. All three are professional artists, designers. It is important to have jurors from outside of SLU who do not know the students."
Newkirk also stated that more artwork was accepted into the show this year compared to last year.
"There were 266 artworks submitted to the show," said Newkirk. "147 artworks, not students, got accepted to be in the show, which is better than last year. Last year, only 37 percent got into the show, but there were a 100 more entries."
Awards were given towards the beginning of the program. Some of the categories were graphic design, painting, photography and sculpture.
The last award to be given was Best in Show, which went to senior art major Abigail Coleman for her sculpture "Devils' Remnant." She also submitted a painting to the show, and she described her excitement after receiving her award.
"I was taken aback because I haven't shown it before, especially in this show," said Coleman. "It's one of my favorite pieces, and I feel like it's one of the most cohesive pieces I have and the most successful. Like I said, it's one of my favorites. I like it, and I think people will like it too. As far as the painting, it's also one of my favorite paintings. Coincidentally, it's the two pieces that I had spent the most time on, and they're both part of the same thought process. So, I kind of wanted to have them in the same show."
In the process of creating her sculpture, Coleman ran into several obstacles.
"That particular sculpture was when I was learning how to weld," said Coleman. "So, it's my first completed welded sculpture. There was a lot of hang-ups with that because I was freaking out on what works and what doesn't. That's what you're taught in that kind of process, and there's what actually works. There's a lot of things I had to learn the hard way, and that's probably one of the reasons that it's such a favorite for me because it managed to be successful despite all the mess-ups I did while learning how to do that process."
Coleman shared that her inspiration for her art came from the aging process of geological features.
"I wanted to talk about geologic process, weathering and the beauty in weathering in hopes that the viewer will find parallels with how important the process is in human life, and all we do is work these processes," said Coleman. "The process of getting an education, the processes of gaining a skill, the process of going to school, or dealing with a loss and how important those processes are to create what we are. So, to find the beauty in those kinds of arduous processes that take millions of years, it's important to find the importance in our processes that take a much shorter time, and they should be appreciated."
About the Writer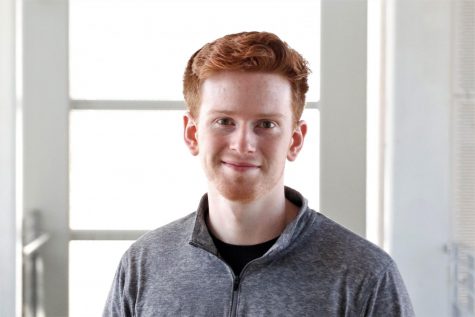 Jacob Summerville, Editor-in-Chief
Jacob Summerville, a history and political science major, has worked at The Lion's Roar since September 2017. A native of Greenwell Springs, LA, Jacob...