Symphony orchestra performs classics
The Southeastern Symphony Orchestra celebrated famous composers from the 18th and 19th centuries by performing pieces from Carl Maria von Weber, Wolfgang Amadeus Mozart and Ludwig van Beethoven.
Assistant Professor of Violin and Orchestra Director Dr. Victor Correa-Cruz and the orchestra presented "A Night of Great Masterworks" on March 21 at 7:30 p.m. in the Columbia Theatre for the Performing Arts. Ecuadorian-American Pianist Dr. Washington Garcia performed as soloist with the orchestra.
Correa-Cruz stated that "in this third concert of the season, the orchestra looks forward to presenting these challenging pieces that provide a window to the forthcoming musical taste of the Romantic era."
The performance started with "Overture to 'Oberon'" composed by Weber followed by "Piano Concerto No. 20 in D minor, K. 466" composed by Mozart. The orchestra accompanied Garcia as the soloist for Mozart's "Piano Concerto."
Following an intermission, the orchestra performed "Symphony No. 1 in C major, Op. 21" by Beethoven. Correa-Cruz explained this piece's structure and history.
"It was finished in 1800 when the composer was still enjoying healthy hearing, and it shows a very optimistic approach," said Correa-Cruz. "The free organization of the pulse, as well as its articulation and phrasing, opened new paths that led to the romantic symphonies of Brahms and Schumann."
"El Bateo" composed by Federico Chueca concluded the concert, which Correa-Cruz selected to represent his hometown and heritage.
After the performance, Northshore Technical Community College psychology major Olivia Haverkamp shared that "El Bateo" was her favorite piece of the night. Sophomore history major Austin Paradelas added to Haverkamp's appreciation for the piece.
"It does really great for the community because it helps to show him bringing a piece of him to here and allowing us to see where he's from," said Paradelas. "It shows him carrying us to his level, and it shows a nice equilibrium of everybody."
Haverkamp shared what she likes about classical music.
"You have to find something out of it because it doesn't have words," said Haverkamp. "So, it gives you meaning. However, you want to assign meaning to it. You have to find the message in classical music."
After conducting his second concert at the university, Correa-Cruz shared that he has enjoyed performing with the orchestra since he came to the university in October 2017.
"I have presented two concerts with them already, and I have seen a tremendous progress," said Correa-Cruz. "The orchestra is expanding in size, and in this short period of time, we covered challenging pieces like Beethoven's first symphony or Haydn's "London" symphony. That is just showing that there is a lot of potential to grow and develop. I am very excited about that and look forward to many more concerts and to reaching a stable audience. We need our community to be more aware of these concerts and to enjoy the luxury of having a symphonic season presented by our most talented students. I had a great time working with this group so far, and I am thrilled to have the opportunity to develop this project at Southeastern, a place full of talent and inspiration."
Correction: In an earlier version of this article that was posted on lionsroarnews.com, Dr. Victor Correa-Cruz was misspelled in the last paragraph as Correra-Cruz. The wording of Dr. Washington Garcia assisting the orchestra was misleading, and has been corrected to "performed as soloist with the orchestra." The online version has been corrected.
About the Writer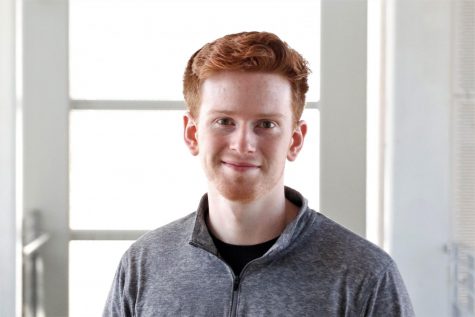 Jacob Summerville, Editor-in-Chief
Jacob Summerville, a history and political science major, has worked at The Lion's Roar since September 2017. A native of Greenwell Springs, LA, Jacob...