Kitchen mastery begins with baking
A baking tray can act as the canvas of opportunity for college students.
When it comes to cooking with limited experience and funds, students may not know how to make the most out of the resources at hand.
Tammy Rink, an instructor at the Chef John Folse Culinary Institute, shared advice for beginner cooks.
"When they're first starting, stick to reputable cookbooks and something that they really want to eat, they have a desire to make," explained Rink.
When students and relatives asked Rink for advice about recipes that they found online, she noticed that the ingredients in the dish and the picture accompanying the recipe sometimes did not match. For this reason, she cautions novice chefs about using online recipes.
Cheyenne Weaver, a sophomore special education major, started baking when she was younger and had assistance from her mother in the kitchen.
When she initially moved to college, Weaver's environment did not allow her to cook as often.
"In college, I absolutely do not have the equipment," shared Weaver. "Luckily in the house, I have a stove and everything. So, I've been able to cook a little bit more here, but when I was living in a dorm, that wasn't an option."
According to Rink, the easiest food to bake are cookies.
"You add your sugar," explained Rink. "You add your butter. You mix it up, and then you add your dry, add some eggs, add some chocolate chips, and you're good to go. They're quick and easy, and you don't need a lot of equipment to make a cookie. Once you can make a really good cookie, you can make just about anything else because those intro things are the basis for all the other processes."
Weaver shared that she enjoys baking because she has a sweet tooth.
Weaver said, "That kind of gives me a little bit of freedom, and I can make, even if it is just a granola bar with chocolate on top or one of the graham cracker bars that I've made before, it gets a little bit of my sweet tooth, but it still gives me the fun of baking and being in the kitchen."
Leanne Brown, a cook and author, explained in her cookbook "Good and Cheap: Eat Well on $4/Day" that people looking to get the most out of their money should buy their ingredients in bulk when the opportunity presents itself.
"When you're working within a tight budget, you won't always be able to afford to shop for the future, but you should do it when you can," discussed Brown. "And, of course, keep storage in mind. If the item will go bad before you can finish it, get the smaller size. Only buy what you can eat."
For college students just starting out, Rink advised that they start with simple recipes.
"We see these things on TV where they're almost over-the-top," shared Rink. "We think that that's how everything should be, but sometimes mastering a simple dish makes it so much better than trying to create something that's got more components than you could handle."
Campus residents should talk to their resident assistant to see what equipment is allowed in the dorms.
Weaver used a George Foreman grill during her time both in the dorm and in Greek Village to make s'mores.
Regardless of how students start their culinary hobbies, Rink believes that making a simple dish is a good way to start.
"Try to keep it simple and work on just making one dish you really like stand out," explained Rink. "Once you've mastered those skills with that dish, then you can change it into anything else."
About the Contributor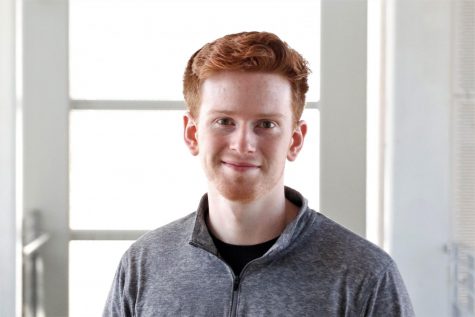 Jacob Summerville, Editor-in-Chief
Jacob Summerville, a history and political science major, has worked at The Lion's Roar since September 2017. A native of Greenwell Springs, LA, Jacob...