Staying Safe: What to do when struggling with alcohol
Helping a friend after a night of drinking can be more than giving them a drive home.
With several bars, pubs and liquor stores within a couple miles of campus, students who have unhealthy drinking habits may use the chance for a fun night out against themselves.
The Alcohol Rehab Guide stated in a July 2019 article that about half of college students who have consumed alcohol have also participated in binge drinking, which is when an individual raises their blood alcohol content (BAC) to 0.08 or above within two hours.
Courtney Williams, a mental health counselor at the University Counseling Center (UCC), shared what precautions one should take to help a peer after a night out.
"It can range from calling the police to simply talking to your friend once they are sober, but this will depend on many different factors including safety and severity," said Williams. "If strong concerns exist, going to the hospital or calling an ambulance may be necessary."
Andrea Peevy, nurse practitioner and University Health Center director, cautions students who have had a couple of drinks to find a designated driver because sometimes, young adults do not realize that their BAC is over the legal limit to drive.
Peevy explained that long-term consequences can surface from receiving a DWI.
"If you get a DWI, there are a lot of professions that can affect whether or not you're able to actually work in that profession – one DWI, one," discussed Peevy.
Drinking the night before school or work could start bad habits within those fields through careless work.
"You may not be able to complete assignments," shared Peevy. "You may be too hungover to go to work. If you do go to work, your performance at your job is probably going to be substandard."
Drinking heavily also makes students more prone to sexual assault. The National Institute on Drug Abuse stated in the publication "Sexual Assault and Alcohol: What the Research Evidence Tells Us" that sexual assaults are more likely to occur in environments where alcohol is available.
"Potential perpetrators seek out such settings as a way of finding vulnerable individuals," the publication stated. "Alcohol should be seen as a risk factor for—not a cause of—unwanted sexual advances and other forms of sexual assault."
Dr. Alexandra Solomon, a clinical psychologist, wrote an article for Psychology Today explaining that understanding the "red zone," a period between August and Thanksgiving break where the majority of sexual assaults occur across college campuses, is crucial for any college student.
Solomon shared that sexual assaults are not usually committed by strangers.
"According to the Department of Justice, for 90% of victims of sexual assault, the perpetrator is a friend or an acquaintance," stated Solomon. "Further, research indicates that alcohol typically has been consumed by the perpetrator, the victim, the perpetrator, or both."
Peevy shared that freshmen who feel obligated to drink are less likely to reach out for assistance.
"Freshmen come in and think that everyone drinks, but in reality, they don't," explained Peevy. "And so, if you think that everyone drinks and that's what they're supposed to do, you're not going to get help because that's what everyone does."
Williams shared that young people may feel that alcohol is perceived as a smaller threat than other substances, and because of this, students may not ask for guidance when needed.
"Many people can feel shame from struggling with a substance that others their age seem to be able to manage, even though many young people can struggle behind closed doors," discussed Williams.
For those looking to assist their friends after a drinking episode, Williams advised for people to listen to the ones they care about with compassion and concern.
If people become weary that listening to their friend may not be enough, Williams encouraged students to ask for assistance.
"It can be helpful to ask for outside help when you yourself are unsure of how to proceed," shared Williams. "It is always appropriate to seek help if you are worried about your friend's behavior or if they are in unsafe situations."
Refuge Recovery is a program hosted by the UCC starting this fall semester that uses Buddhist principles to aid students struggling with substance abuse.
"Wisdom and compassion enable those struggling with any form of addiction to become more mindful of their mental processes while also developing a deep understanding of the suffering that addiction has created and compassion for their own path," said Williams.
Meetings will take place on Mondays from 12:30-1:30 p.m. in Student Union Annex room 2209.
LION UP Collegiate Recovery Program aims to help students with their recovery, whether it be alcohol or drug abuse, through the assistance of the UCC and the Department of Student Affairs.
"A CRP is a program which offers specialized and strategic support to help students achieve growth and success in their recovery and academic journey," explained Williams. "Collegiate recovery programs offer this type of support, much like student-athletes and veterans receive on college campuses."
Students looking for a good time in college could incorporate alcohol, but should not misuse the substance.
"Drinking alcohol, especially to excess, is not a part of everyone's college experience, and it doesn't have to be," shared Peevy.
About the Contributor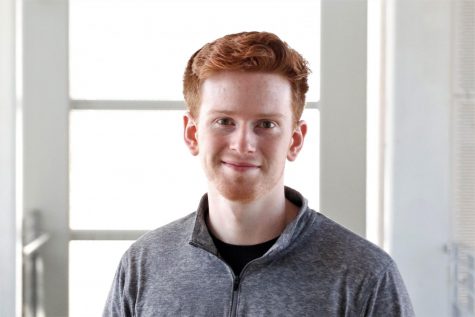 Jacob Summerville, Editor-in-Chief
Jacob Summerville, a history and political science major, has worked at The Lion's Roar since September 2017. A native of Greenwell Springs, LA, Jacob...